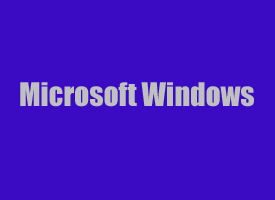 Our friend Nick Heath over at TechRepublic recently pointed out that Microsoft is breaking one of their own developer guidelines with their latest "Get Windows 10" app.
And in my opinion, it's quite clear that he is correct.
The specific guideline they are breaking is located about one quarter of the way down the page, and it reads like this: 
The Close button on the title bar should have the same effect as the Cancel or Close button within the dialog box. Never give it the same effect as OK.
Note: I bolded the last sentence for emphasis.
The "Close" button they are talking about in the above quote is the little X that's located in the top-right corner of the window, but it can also be an actual button within the dialog box labeled with the word "Close".
In a nutshell, according to Microsoft, clicking "Close" should never be interpreted the same as if you had clicked the OK button. Yet that's exactly what they did when they designed the latest "Get Windows 10" dialog window: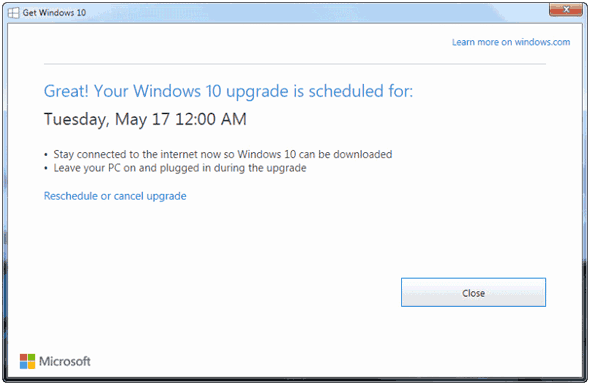 Notice that they sneakily left out the OK button but included an actual "Close" button. They then made the Close button perform the same way an OK button would have performed had it been included in the dialog box.
In this new "Get Windows 10" dialog box, clicking "Close" (either the actual Close button OR the X) means you accept the scheduled upgrade to Windows 10. This directly contradicts Microsoft's own guideline as quoted above.
In order to actually cancel the scheduled update, you would need to click the small "Reschedule or cancel upgrade" link that's located in the middle of the dialog box. Of course that link doesn't stand out nearly as much as the honking big Close button, which means many users won't notice it.
Many folks will naturally respond to this dialog box by either clicking the Close button or the X in the top-right corner, thinking that either of those actions would cancel the scheduled upgrade. But that isn't the case at all. Clicking Close or X actually means you are accepting the impending upgrade, not canceling it.
Bottom line: This is a very misleading dialog box, and Microsoft intentionally designed it to be that way in order to trick as many Windows 7 and Windows 8.1 users as possible into having their machines automatically upgrade to Windows 10, even if they don't want the upgrade installed.
Here's what you need to know:
1 – If your PC has been upgraded to Windows 10 and it's been less than 30 days, you can follow the instructions in this post to roll back to either Windows 7 or Windows 8.1 (whichever version your PC was running before being updated to Windows 10).
2 – If your computer is still running either Windows 7 or Windows 8.1, you can prevent it from being updated to Windows 10 in the future by installing a free utility called Never10.
In my opinion, it's pretty crappy of Microsoft to ignore the very same guidelines they impose on other Windows developers, especially when they do it in order to trick their users into installing an update they neither need nor want.
When other developers do something like this most folks consider it to be malware. It's pretty clear that Microsoft's new "Get Windows 10" app is behaving like malware as well.
Bonus tip: Get my latest tips in my weekly RicksDailyTips Email Newsletter. Sign up at the bottom of this page!