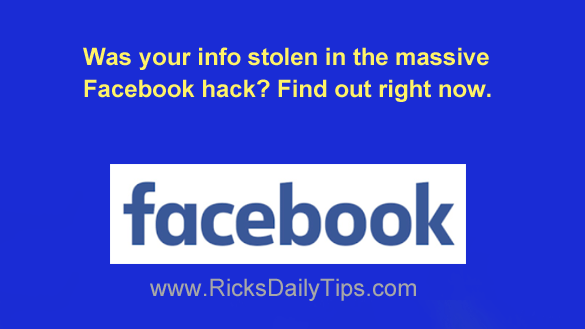 By now you're probably aware of the massive Facebook hack that resulted in approximately 530 million users having their info stolen.
That makes this one of the largest successful hacks in the history of the Internet.
Although it's just now beginning to dominate the news, this hack actually took place back in 2019.
The reason it has popped up to the surface again after all this time is because the actual amount of data that was stolen has turned out to be a lot more than previously thought.
It's still unclear exactly how much data belonging to each affected user was compromised, but at a bare minimum the stolen info includes all the following:
Full Name
Birthdate
Postal Address
Email Address
Place of Work
Relationship Status
Of course any piece of info that wasn't posted on a user's profile wasn't stolen – at least not from Facebook.
However, the hackers could easily fill in many of the missing pieces with a simple Google search since they have the users' full names and phone numbers.
As you can see, this breach is a perfect example of why it's wise to keep as much of your personal information as possible off of Facebook's servers and the Internet at large.
Unfortunately, the proverbial cat is already out of the bag for the unlucky 530 million people who had their info compromised by this breach.
The question is, was your Facebook account one of the 530 million accounts that were hacked?
Well, there's a very easy way to quickly find out…
First, have you ever added your telephone number to your profile on Facebook?
If not, then your data was NOT included in the breach because user phone numbers were used as the starting point for hacking the other info.
If your phone number IS on your Facebook profile (or if it ever HAS BEEN in the past), simply type it into the box on this page and click the Check button.
(Note: Be sure to include the number 1 at the beginning of the number to indicate that you have a U.S. based phone number.)
If your info was included in the breach you will notified of that fact immediately.
If the result says your phone number is not included in the stolen data then you're in the clear.
However, if it says it is included then you have some work to do…
First, log into your Facebook account and change your Facebook password.
Next, enable Two-Factor Authentication on your Facebook account if you haven't done so already.
And finally, keep a close watch on your bank account(s) and credit reports to make sure your stolen info hasn't been used to steal your identity.
Bottom line: As I've recommended many times, it's best to keep any personal information that isn't absolutely required off of your Facebook profile.
Whether your info was breached via this hack or not, this would be a great time to review the information Facebook has about you and remove as much of it as you possibly can.
---
Never miss a tip!  Click here to sign up for my free Daily Tech Tips Email Newsletter!