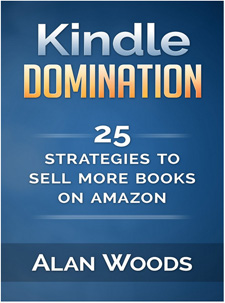 If you're a regular reader of this blog, you have probably read this post that explains just how easy it is to create and sell ebooks on Amazon. But once your ebook is for sale in the Kindle Store, how do you promote it in order to make lots of sales?
Kindle Domination: 25 Strategies To Sell More Books On Amazon offers plenty of solid advice for increasing your ebook sales and income.
Author Alan Woods explains his proven strategies and methods in powerful, yet easy to understand language and without the use of confusing and unfamiliar jargon. 
I really enjoy Alan's writing style, and he obviously knows this important topic from top to bottom.
Whether you want to make a living from selling your ebooks on Amazon or just create a substantial second income stream, Kindle Domination will help you get started out on the right foot.
Bonus tip: Did you know hackers are trying their best to break into your Amazon account? Well, they are, but you can lock them out by enabling Two-Factor Authentication on your account. Click here for step-by-step instructions.
---
Like this post? If so, I invite you to share it on social media. Just click one the handy buttons below.