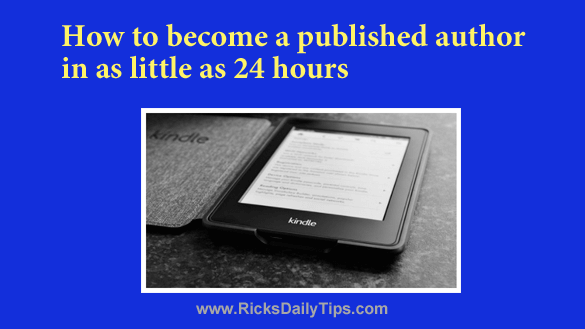 Note: The links in this post are affiliate links.
If you've written a book that desperately needs a publisher, your search is over.
Why? Because you can publish your book as a Kindle ebook and be selling it on Amazon as soon as tomorrow!
What's more, it won't cost you a dime.
Amazon makes it very easy to publish your finished manuscript in their Kindle ebook store via their Kindle Direct Publishing program.
Once you've signed up for the program Amazon will walk you through the entire process of publishing your ebook, from start to finish.
They really have the sign-up and publishing process down to a science. And it's a simple process, too.
You just compile the manuscript into one of the accepted formats, then fill out the form. Your brand new ebook will show up in the Kindle Store within 24-48 hours!
What's more, there are no fees. You get to set the price of the ebook and keep 70% of the sales price. Amazon handles the entire transaction, from start to finish.
The customer places the order and pays Amazon, then your 70% royalty is deposited into your Amazon Seller Account. It really is that simple.
Bottom line: If this sounds like a great way to sell your book to the masses (and it is!), you'll find all the details right here. Just sign up on that page to find out how to start selling your ebook on Amazon as soon as tomorrow!
---