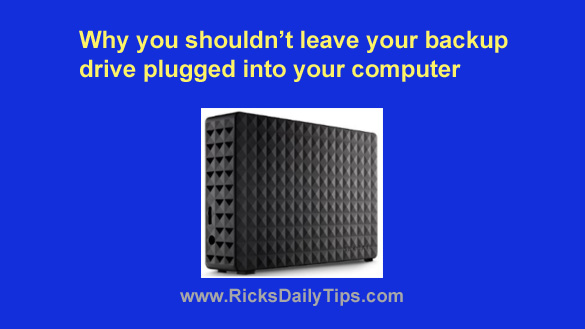 Note: The links in this post are affiliate links.
Regular readers of this blog know I'm always mentioning how important it is to create regular backups of your Windows PC or Mac.
After all, always having a recent backup of your machine's hard drive or SSD on hand is the very best "insurance" you can have against a catastrophic drive failure or a crippling virus infection.
But there's one important point that I probably don't stress nearly as much as I should…
It's important to always disconnect the USB backup hard drive containing your backups from your computer just as soon as the latest backup has been created!
Keeping the backup drive plugged into your computer puts it at great risk of being rendered useless at any time.
Why? Well, here are several possible scenarios that occur each and every day in the real world:
1 – If your computer gets hit with a successful virus or ransomware attack, every drive that's connected to the machine could well be rendered completely useless, and that includes the drive containing your backups.
2 – If your computer gets taken out by a lightning strike there's a chance the power surge will take out the backup drive as well.
3 – If your computer gets destroyed in a house fire your backup drive will go up in smoke right along with it.
For those reasons you should treat your backup drive as a precious and irreplaceable item that needs to be protected against any and all possible threats.
Luckily, it's relatively easy to ensure that your backup drive will be available when you need it.
Simply disconnect it and store it in a good fire-proof and water-proof lock box!
Even better, if the data on the drive is extremely important you might want to consider storing it off-site in another secure location such as a bank safe deposit box.
And you can add even more redundant protection by storing copies of your most important files in a reliable cloud storage space like Carbonite, Dropbox, Google Drive, iCloud or OneDrive.
Bottom line: It isn't enough just to create regular backups of your computer's hard drive or SSD. You also need to take measures to protect the backup drive itself from loss or damage.
---