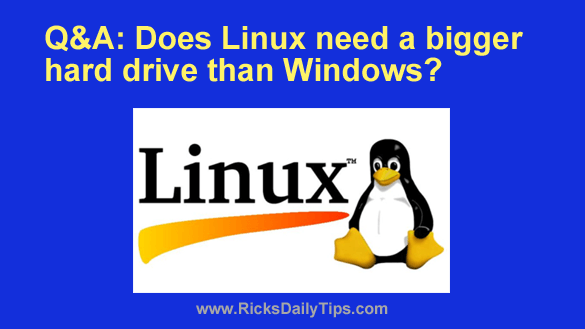 Note: The links in this post are affiliate links.
Question from Marla:  I have an older HP laptop with Windows 7 that's got really slow over the years.
I read your post about replacing Windows with Linux and since Windows 7 is no longer safe to use I'd really like to do that.
I don't use this laptop for anything but Facebook so I believe it'll work out just fine.
The thing is this laptop only has a 320GB hard drive in it. Is that enough space to hold Linux or will I need to replace the hard drive with a bigger one? 
Rick's answer: Marla, the short answer to your question in no, you won't need to replace the hard drive in your laptop in order to install Linux on it.
A 320GB drive is plenty large enough to hold any Linux distribution you care to install on it.
Virtually any version of Linux requires less disk space than the smallest current version of Windows. That means a hard drive upgrade will most likely never be required in order to replace a Windows installation with Linux.
What's more, most of the programs that run under Linux also require less disk space than their Windows counterparts.
If you do end up replacing Windows 7 with Linux, I recommend that you check out this list of Linux replacements for popular Windows programs.
And now, one more quick point…
Even though you don't need to replace the hard drive in your laptop just so you can install Linux, this would still be a great time to replace it anyway with a super-fast Solid State Drive (SSD).
Right now you can buy this top-rated 240 GB SSD (which is plenty enough space to hold Linux and a bunch of applications) for not much more than you'd pay for a good pizza!
Running Linux off of a solid state drive will likely make this laptop seem a lot faster than it does right now. Just something for you to consider…
I hope this helps, Marla. Good luck!
Bonus tip: If you'd like to go with a Linux distro that's a lot Windows, I recommend that you click here to read my post about Linux Mint.
---