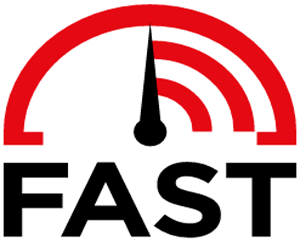 For a while now I've been recommending a fantastic free service called Speedtest.net for checking the actual download speeds on your Internet connection.
After all, some ISPs are notorious for not delivering the speeds their customers are paying for.
I have always found Speedtest.net to be quite accurate with their test results, and I still recommend them highly. But there's an easy way to get a "second opinion" thanks to our friends over at Netflix. 
Fast is a service from Netflix that will test your Internet download speed without you having to select any options or even click a button. All you have to do is simply visit https://fast.com and the test will run automatically.
I've checked the download speeds on my own Internet connection dozens of times with both Fast.com and Speedtest.net and found the test results from the two services to track with one another quite well.
Important: When you run this test you'll get the most accurate results if the only device that's using your Internet connection is the device you're using to run the test.
It's best to temporarily either disconnect all other devices from the network or place them in airplane mode until you have completed the test.
Bottom line: You deserve to get the the Internet speeds you're paying for. Now you can use both Fast.com and Speedtest.net to find out if you're really getting them. If not, I recommend that you call your ISP and ask them to find out why.
There are several possible causes of a sluggish Internet connection, including an outdated cable modem. Whatever the cause, your ISP should be able to help you fix it so you can begin enjoying the speeds you're paying for.
Bonus tip #1: Click here for eight tips for enjoying a faster Internet experience.
Bonus tip #2: Want to make sure you never miss one of my tips? It's easy! Just…
Click here to sign up for my free Rick's Daily Tips Email Newsletter!
---
Would you like to ask Rick a tech question? If so, click here and send it in!
If you found this post useful, would you mind helping me out by sharing it? Just click one of the handy social media sharing buttons below. Thanks a bunch!