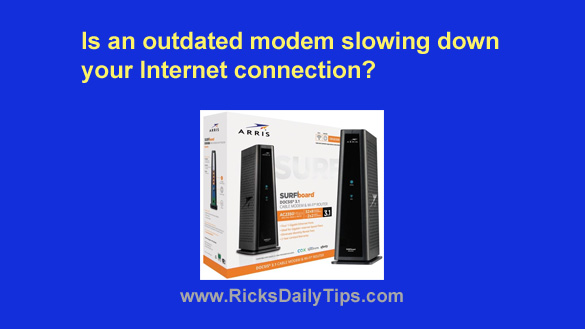 Comcast, Time Warner and other cable Internet providers periodically raise the guaranteed download and upload speeds for their various Internet service tiers in order to remain competitive in the marketplace.
And when they do, they usually email their customers to let them know they've received a bump in their connection speeds.
When necessary, they'll also let the customers know that they'll need to order a new updated modem in order to actually take advantage of the faster data transmission speeds provided by their plan.
The problem is, many customers either don't receive the notification emails about the needed modem upgrades or the emails get lost in their junk folder. 
As a result, those customers often continue using their old, outdated modems because they don't know they're supposed to request a new one.
That's a serious problem because that old, outdated modem will often throttle their Internet connection down to a speed that's often a lot slower than the speed they should rightfully be enjoying.
And in case you're wondering, the speed lost due to an outdated modem can be quite substantial.
For example, just a few years ago my own Comcast Internet plan was upgraded from 45Mbps to 75Mbps. After receiving notification of the speed increase and the need to request a new modem, I called Comcast and requested the modem exchange.
While I was waiting for my new modem to arrive, I clicked over to Speedtest.net and ran their speed tests on my Internet connection.
The tests I ran revealed that my download speeds while still using the old modem were averaging around 50Mbps.
That's great for a 45Mbps plan, but I knew that my upgraded plan should be giving me around 75-80Mbps instead of 50.
And sure enough, once I received my new modem and installed it, the download speeds reported by Speedtest.net started averaging around 80Mbps. That's a speed increase of a whopping 30Mbps!
Comcast increased my download speeds several times over the years, and at least three times they had to replace my modem with a new one before I could take advantage of the faster speeds.
I said all of the above to say this: If I had missed the notification emails telling me about the speed upgrades I would have kept using the old modem and my connection would have been needlessly throttled to a speed that was much slower than the faster speeds I was paying for at the time.
That's why I recommend visiting Speedtest.net on a regular basis to determine the actual download and upload speeds being delivered by your Internet connection.
Then take the data gleaned from your tests and visit your Internet provider's website to verify the speeds you should be receiving with your plan tier.
If the speeds promised for your tier are a lot faster than the actual speeds reported by Speedtest.net, contact your Internet provider and ask them to check it out. You either have a problem with your physical cable connection or your modem needs to be upgraded.
Either way, they'll need to take whatever measures are necessary to bring your connection up to its promised speeds.
Important: To get the most accurate results from your Internet speed tests, it's best to check the speed from a wired Ethernet connection instead of over WiFi.
You also need to make sure the only device that's connected to your router/gateway is the device you're using to comduct the test.
Either turn off all the other devices or place them in Airplane Mode.
Bottom line: Keep a check on your Internet speeds with Speedtest.net to make sure you're getting the speeds you're actually paying for. If not, contact your Internet provider and ask them to make it right.
Bonus tip: This post explains what to try first when your computer or WiFi devices can't connect to the Internet.
---