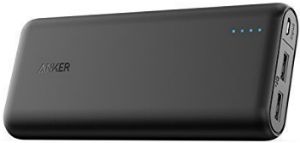 If it seems like the battery in your Android phone lasts about as long as a bowl of ice cream on a hot summer day, you aren't alone.
Short battery life is one of the most common issues that we're likely to encounter with our smart phones.
As phones have gotten thinner, faster, brighter and more powerful, their ability to drain a battery dry has increased right along with their technological advances.
If you know you're going to be in a situation where your phone's battery charge is likely to run low and shut off your phone before you'll have a chance to plug it into a charger, here are a few tips for keeping your phone up and running as long as possible: 
1 – Don't allow any apps to run in the background unless they are absolutely necessary. Every running app put an extra load on your phone's CPU and memory, and the harder the CPU and memory have to work the more power they consume.
While it's true that Android suspends non-critical apps when they aren't running front and center, many apps still use resources at all times for things like checking for updates or changes on a background server somewhere in the Internet "cloud".
My own tests have proven that "hibernating" unused apps can make a marked difference in battery life.
The easiest way to hibernate unused apps is with the awesome Greenify app.
2 – Unless you have a compelling reason for leaving it on, turn your phone's GPS/Location services off since they are one of any phone's most hungry power hogs!
3 – Disable Wi-Fi and Bluetooth when you aren't using them. These are also major power sinkholes even when there's no Wi-Fi connection in your immediate area or Bluetooth device in use.
4 – Decrease the brightness of the screen as much as possible while still being able to comfortably read it.
At night (or when you're in a dark room) you should be able to reduce the brightness by a huge margin and still read the info on the screen just fine.
5 – Switch your screen to a black background.
6 – After you have used the Greenify app mentioned above to hibernate all the non-essential apps that you can think of, find out which remaining apps are using the most "juice" and completely disable them if you don't use them on a regular basis.
Just tap Settings>About Phone>Battery>Battery Usage for a list of running apps that are consuming power. They will be listed top to bottom in order of their power usage.
7 – Either put your phone into Airplane Mode or turn it off completely when you know you'll be in an area with an extremely weak cellular signal (especially if there's no signal at all).
The constant search for a signal will run your battery dry faster than you can say your ABC's (well, faster than you can recite the Gettysburg Address from memory anyway).
8 – Keep a fully-charged portable battery pack on hand for recharging your phone's battery when you can't use a wall charger or car charger to charge it back up.
These amazing devices work extremely well, and some models will charge your phone several times before you'll need to recharge the battery pack itself!
That's all there is to it. These tips should help you wring every bit of battery life out of your Android phone!
Bonus tip: Want to make sure you never miss one of my tips? Click here to join my Rick's Tech Tips Facebook Group!
Note: The links in this post are affiliate links.
---
Would you like to ask Rick a tech question? If so, click here and send it in!
If you found this post useful, would you mind helping me out by sharing it? Just click one of the handy social media sharing buttons below. Thanks a bunch!