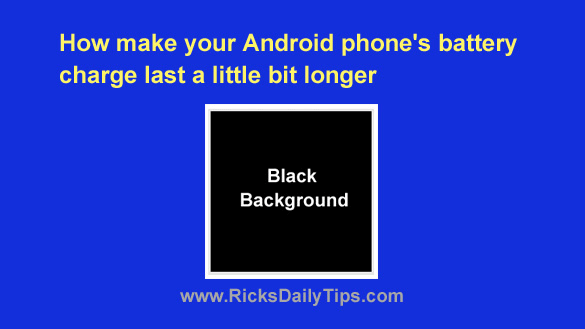 Does it seem like the battery in your Android phone dies a lot sooner than it should? If so, you're certainly not alone.
A while back I wrote a post listing 7 tips for extending your Android phone's battery life, and they all help quite a bit.
Well, here's a bonus tip that will make your battery last even longer. All you have to do is change your phone's wallpaper to one that's solid black!
You're probably wondering why using a black background can save battery life, and that's a good question. And the answer is really pretty simple: The brighter the screen, the more current the battery must supply to keep it lit up.
Bottom line: Changing from a light colored background to a solid black one allows your phone to operate with less current being drawn from the battery.
Switching your phone to a solid black wallpaper is easy. Here's how: 
Note: The exact steps required to enable the black background on your phone might vary a bit from the steps listed below. If so, just use the following steps as a general guide.
1 – Tap the Apps icon, then tap the Play Store icon.
2 – Type black background into the search field, then press the magnifying glass icon to conduct the search.
3 – Tap Black Background (the one from androdan).
4 – Tap Install.
5 – After the installation is complete, exit the Play Store app and tap the Settings icon (it looks like a "gear" or "cog").
6 – Tap Display.
7 – Tap Wallpaper.
8 – Tap Live wallpapers, then select Black Background.
9 – Tap the Home button. Your phone's background should now be solid black.
That's all there is to it. Now your phone's battery should last a little longer than it did before.
The amount of extra battery life gained will depend on the size and resolution of your phone's screen. The larger the screen and the higher the resolution, the more extra battery life you should be able to enjoy.
---