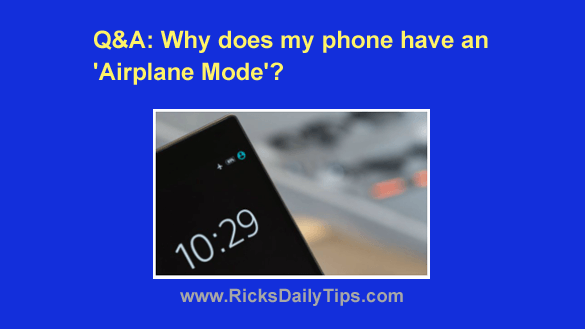 Question from Janine:  Hello, Rick. I have just finished reading an article that discussed an app that places your phone into "Airplane Mode" whenever there isn't a cell signal available.
Please don't think I'm a dummy because I'm not, but I had never heard the term "Airplane Mode" before reading that article.
Can you tell me what it means? What do phones have to do with airplanes?
Rick's answer:  Janine, when you place a mobile device into Airplane Mode, it temporarily disables all the radio transmitters that are contained within the device's circuitry.
Many mobile devices are equipped with several radios that allow them to operate over Wi-Fi and/or a cell carrier's data network, make telephone calls, interact with GPS satellites and work with wireless devices via Bluetooth.
"Airplane Mode" is so named because it allows the user to turn off ALL of a device's radio transmitters with a single setting, which in turn allows you to continue using the device while aboard an airplane (where radio transmissions of any kind have generally been banned in the past).
Airplane Mode also comes in handy at other times as well. For example, if you are in a movie theater, at school, in church or any other place where interactions with your phone are frowned upon, you can simply place it in Airplane Mode instead of powering it down.
You might also want to place your device in Airplane Mode while it's charging since the battery will charge faster when it isn't having to power all of the device's radios and constantly be searching for a cellular or GPS signal.
I hope this helps, Janine. Thanks for reading my blog!
Bonus tip: This post explains what it means to "brick your phone".
---