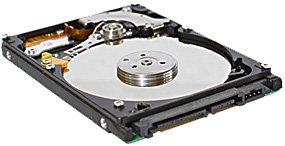 It happens to most everyone sooner or later. You turn on your PC and discover that it won't boot.
You hear a clunking sound from your hard drive and whisper "Oh, no!!!" after realizing that the drive has gone belly up on you.
All is not lost if you have a current backup that works. You can simply replace the bad drive with a new one and restore everything in short order.
But what if you don't have a backup? Or what if you have a backup but it has somehow become corrupted and you can't restore from it?
Well, that's when you have a choice to make. 
Are the files on your hard drive precious enough to justify paying a data recovery company hundreds of dollars to retrieve them from your bad hard drive? Are all of those photos really priceless?
If so, there's an excellent chance that a service like Secure Data Recovery can rescue your files for you if you're willing to pay the price.
These services usually do an outstanding job, but with the right tool you just might be able to rescue your precious files yourself and save hundreds of dollars in the process.
I'm going to recommend two options for attempting your own DIY data recovery from a failed hard drive:
1 – If the drive still powers up and the platters still spin at anything close to the proper speed you'll probably be able to retrieve your files from it using an awesome free tool called Recuva.
In a nutshell, Recuva will scan the sectors of your bad hard drive for uncorrupted files and give you a report listing all the files that can be recovered. Then with just a few mouse clicks you'll be able to copy those files to a different drive.
Recuva usually does an excellent job, but if the drive is too far gone you might be less than satisfied with the results. Which brings me to the second option…
2 – An amazing program called Recover My Files will work with most any hard drive that still powers up and spins the platters. I've used it to retrieve files from several drives that Recuva couldn't do anything with, and I strongly recommend it.
Recover My Files isn't free, but at $69.95 for a two PC license it sure beats shelling out several hundred dollars to a company that could end up using similar software to do the job on your behalf.
Since no software program can recover data from a drive that is completely dead, there is a chance that Recover My Files won't be able to "see" and retrieve your files. But in cases where the platters still spin the success rate is pretty high.
Will Recover My Files save the day when your hard drive fails?
There's only one way to find out: Download the evaluation version and give it a try! If it can "see" your files, it'll be able to recover them.
At that point you'll need to purchase a license for $69.95 in order to actually recover your files. But like I said, it sure beats paying hundreds of dollars. And since the Evaluation copy is free, you have nothing lose by trying!
Bottom line: If your hard drive goes completely belly-up you'll have no choice except to ship it off to a professional data recovery service and shell out some big bucks for them to retrieve your precious files for you.
But if the drive still powers up and spins, you just might be able to use either Recuva or Recover My Files to do the job yourself!
Bonus tip #1: You can avoid having to recover your files from a bad hard drive entirely by creating regular System Image backups. You'll find simple step-by-step instructions for creating a System Image backup right here.
Bonus tip #2: Want to make sure you never miss one of my tips? It's easy! Just…
Click here to sign up for my free Rick's Daily Tips Email Newsletter!
---
Would you like to ask Rick a tech question? If so, click here and send it in!
If you found this post useful, would you mind helping me out by sharing it? Just click one of the handy social media sharing buttons below. Thanks a bunch!