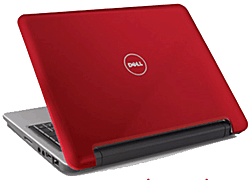 Question from Derick G.:  I read a news report that indicated that Windows XP will become unusable when Microsoft abandons it this spring. I have a Dell Inspiron Mini 12 that's running Windows XP Home Edition that still works like a champ.
What would you recommend that I do with this computer? Sell it? Scavenge it for spare parts? Just recycle it? I really have no idea how much it's worth, either in whole or in parts.
Rick's answer:  Derick, I doubt that you'd get enough out of your Mini 12 if you sold it to even make it worth your time and trouble. If I were you, I'd install Ubuntu Linux on it instead and use it as an Internet computer.
Installing Ubuntu will breathe new life into what is probably still a great little machine, and since Ubuntu is completely free it won't cost you a dime to give it a try.
If you decide that you don't want to keep it after giving Ubuntu a try, you could always donate it to someone who would love to have a computer for Internet use, but can't afford one. Just an idea…
I hope this helps Derick. Whatever you ultimately decide, I wish you the best of luck.
---
Do you have a tech question of your own for Rick? Click here and send it in!
Need expert computer help? Click here to read about the services that I provide.