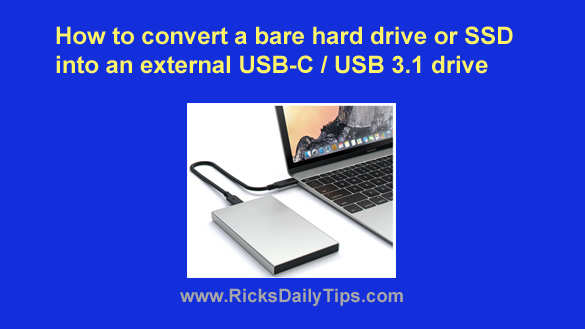 Note: The links in this post are affiliate links.
A while back I wrote this post that explains how to convert an unused internal hard drive into an external USB 3.0 drive.
That has turned out to be one of the most popular posts I have ever written, but a lot has changed since then.
Solid State Drives (SSDs) are quickly replacing traditional hard drives in many newer desktop computers and laptops.
What's more, many of the newest computers, tablets and smartphones now come with the newer, and much smaller USB-C ports.
If you own a computer or mobile device that only has a USB-C port, it makes sense to use an external drive enclosure that also supports this modern connection type.
Luckily, the awesome new USB-C external drive enclosures don't cost any more than their USB 3.0 predecessors and they work perfectly with both traditional 2.5 inch hard drives and SSDs.
And if you have a spare 3.5 inch desktop drive lying around you'll find several USB-C external drive enclosures that'll work with it as well!
Using one of these awesome new enclosures is quite easy. Simply open the case, then plug the bare drive into the SATA connector and close it back up again.
Congrats, you now have an external USB-C hard drive or SSD!
There are tons of uses for external hard drives, and they make exceptional backup media for holding your System Image backups.
Bottom line: You can easily convert any bare SATA hard drive or SSD into a super-fast external USB-C 3.1 drive without spending a ton of cash. And yes, you can easily do it yourself! Just pick an enclosure that matches your drive and you'll be all set.
Click here to check out the great selection of external USB-C drive enclosures at Amazon.
---