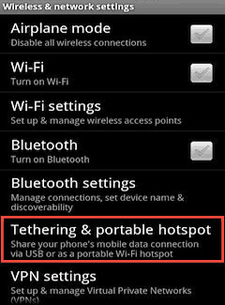 Wouldn't it be nice to be able to use your laptop, tablet or other Wi-Fi enabled device at any place where there is a decent 3G or 4G signal available?
Well, if you have a smart phone running Android 2.2 or later you have everything you need to create a Wi-Fi hotspot that can provide Internet service for up to five Wi-Fi enabled devices!
The Android feature for creating a hotspot is called Tethering, and here are the steps for turning it on in your phone:
1 – From your Android phone's Home screen, tap the Menu button or screen location to go to the Settings screen.
2 – Tap Settings.
3 – Tap Wireless & networks. [Read more…]