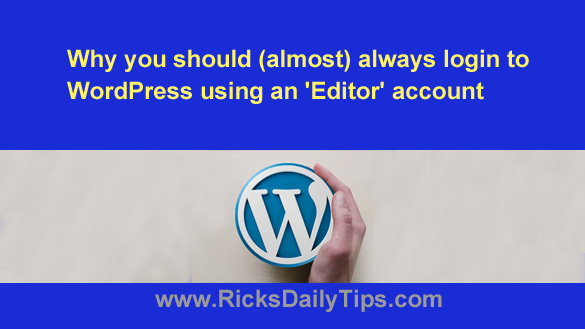 Do you have a blog that's powered by WordPress?
If so, you should know that you have a virtual target on your back.
More blogs run on WordPress than any other blogging platform, and that makes WordPress blogs a preferred target for the hackers of the world.
Unless you've taken steps to harden your blog against hacking attacks, it's fairly easy for a skilled and determined hacker to either guess your WordPress login password or intercept it from the data stream that's created when you log in to your WordPress Dashboard.
In other words, if you have a WordPress blog, it is constantly at risk of being hacked.
There are several things a hacker can do to damage your blog should he gain access to your WordPress password, but there's a simple way to prevent him from altering your blog's theme, plugins and critical blog-wide settings…
Always log in using an account that doesn't have administrator privileges unless you need to do something that actually requires them!
In short, sign in with an Editor-level account every time you just need to write or edit a blog post.
This is what I recommend:  [Read more…]