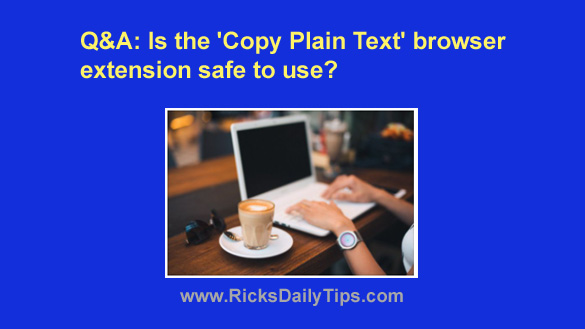 Question from Amber:  I do a lot of copying and pasting when I'm writing posts for my lifestyle blog.
Something that always irritates me is having to paste everything into Notepad to get rid of the formatting and then copy the "clean" text and paste it into the blog post I'm working on.
I checked Google and found a Firefox browser extension called Copy Plain Text that allows you to copy text and paste it without the formatting.
My question is, do you think it's safe to use this extension? 
I'm asking because I know lots of extensions are dangerous and I don't want to mess up my work computer.
Rick's answer: I have good news for you, Amber. I did a thorough check on the "Copy Plain Text" extension and it appears to be completely safe.
Virtually all of the reviews I found were favorable and I didn't find anyone claiming that it's dangerous in any way.
But now that I've answered your question, I have even better news…
You don't need to use a browser extension in order to copy something and paste it as plain text. All you need to do is use a special keyboard shortcut. Here's how:
1 – Select the block of text you wish to copy the same way you always do.
2 – Right-click on the selected text and click Copy.
3 – Press the Ctrl+Shift+V key combination to paste the copied text into your blog post.
You should now see the text you copied in your blog post, minus any formatting that was present in the original document.
That's all there is to it. As you can see, you don't need to install a browser extension just to be able to copy and paste plain text.
I hope this helps, Amber. Good luck!
Update from Amber:  That works perfectly. Thanks so much! I don't like using extensions unless I absolutely have to and your solution is a big help.
Bonus tip:  This post discusses several other super-handy keyboard shortcuts.
---