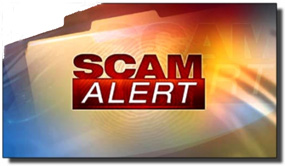 It seems like a new scam pops up on Facebook every day, and others seem to come and go in cycles.
Unfortunately, one of the most dangerous Facebook scams you're likely to encounter is making the rounds yet again.
It's called the 'You're tagged in this video!' scam, and although there are several subtle variations of it, they all work something like this:
Someone either makes a post on your timeline or sends you a private message stating that one of your friends has tagged you in a video. Naturally, you're intrigued as to who the friend is and what the video is about, so you click the link to watch it.
After you click the link to view the video you receive a pop-up message stating that in order to see the video, you'll need to download a software update or browser extension. Without giving it a second thought, you click the link to complete the download.
Congratulations! Your computer is now infected with one or more viruses, trojans and/or other forms of malware!
As always, the only way to truly protect yourself from falling victim to the criminals who perpetrate these scams is to be diligent and use extreme caution when deciding whether or not to click a link. Here are a few tips: 
1 – NEVER click a link in a post or message that came from someone you don't know. EVER.
2 – NEVER click a link in a post or message that seems out of character for the person who supposedly sent it, even if that person is a friend that you would trust with your life. There's always a good chance that your friend's account has been hacked, controlled by a rogue app, or even cloned.
If you have reason to believe that the message is legitimate (you had already received a heads-up from your friend that one would be coming your way, for example), it's still a good idea to call or email your friend for verification BEFORE clicking the link.
3 – ALWAYS remember that you should NEVER agree to download any updates, programs or extensions that supposedly are required before you can complete ANY action on Facebook, especially if the suggestion to download them came from a post or message on Facebook itself.
Bottom line: Scammers and crooks hover over Facebook like mosquitoes over a stagnant pond, constantly trying to find someone to victimize with their scams and malicious acts.
And unfortunately, the scammers' preferred method of distributing malware and stealing your personal information is enticing you to click a link to an infected web page.
When on Facebook, it's wise to always question everything and err on the side of caution, even if it means you'll miss out on something "good" every now and then.
Bonus tip #1: Click here for several tips for protecting your Facebook account from hackers.
Bonus tip #2: Want to make sure you never miss one of my tips? It's easy! Just…
Click here to sign up for my free Rick's Daily Tips Email Newsletter!
---
Would you like to ask Rick a tech question? If so, click here and send it in!
If you found this post useful, would you mind helping me out by sharing it? Just click one of the handy social media sharing buttons below. Thanks a bunch!