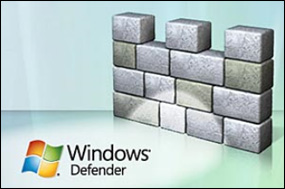 Question from Caroline E.:  I just bought a new computer with Windows 8 on it and the salesman told me it comes with a free anti-virus program that's actually a part of Windows.
Is that true? And if it is, do I have to turn it on or is it already enabled? I'd really like to use it if at all possible because it's free! lol
Rick's answer:  Yes Caroline, the salesman was correct. The anti-malware program that's integrated into Windows 8 is called Windows Defender. It's actually just a re-branded version of "Microsoft Security Essentials" combined with the legacy "Windows Defender" anti-malware utility.
If your PC came pre-loaded with a trial version of another antivirus program (and it probably did), Windows Defender won't be turned on by default. If you don't plan to use that trial version, I recommend uninstalling it and then immediately doing one of the following:
1 – Turn on Windows Defender. Simply type the word defender while you're on the Start Screen, then click on Windows Defender in the list of search results.
2 – Even better, leave Windows Defender turned off and download the free version of Avast Antivirus instead. Just visit this page, then scroll down to the "Download" section and click the blue Download button under "Essential – Avast Free Antivirus".
Why do I recommend Avast over Windows Defender? Because my own experience has been that it's more effective at protecting your computer from malware infections and removing the ones that happen to slip through.
As a final note, I strongly recommend installing the free update to Windows 8.1 since it offers a number of usability improvements over the original Windows 8. You can find out more about it right here on the Microsoft website.
---
Do you have a tech question of your own for Rick? Click here and send it in!
Need expert computer help? Click here to read about the services that I provide.