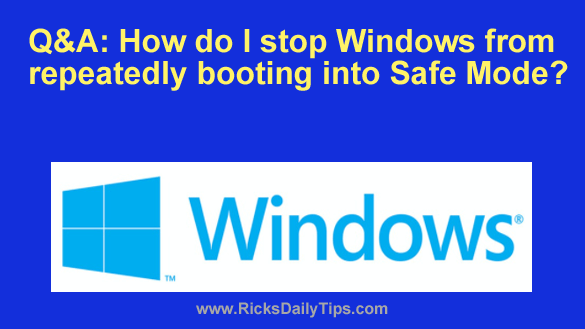 Question from Jenna:  I need your help, Rick.
I turned my computer on this morning and it booted up into Safe Mode instead of the normal mode.
I tried restarting the computer several times and it always boots into Safe Mode.
It's an HP laptop with Windows 10. How can I make it boot up normally like it should? 
Rick's answer:  Jenna, it sounds like your system's boot settings have been changed somehow. If that's the case, it should be easy to reverse it and make your PC boot up into Windows in normal mode.
This short video shows how, step-by-step:
Note: You can watch this video at full screen by clicking the little "square" icon in the lower-right corner of the video after it begins playing. This procedure works for both Windows 10 and Windows 11.
If you prefer following written instructions, here you go:
1 – Press the Windows+R key combination to open a "Run" dialog box.
2 – Type msconfig into the "Open" field, then click OK.
3 – In the "General" tab, make sure Normal startup is selected.
4 – Select the Boot tab and uncheck the box beside Safe Boot, then click OK.
5 – Restart the computer.
That's all there is to it, Jenna. Your computer should boot up into Windows normally from now on. If not, let me know and I'll tell you what to try next.
By the way, Safe Mode is a special troubleshooting mode that you can use to help diagnose and fix a wide variety of Windows issues and general computer problems. It can really come in handy, especially when you can't get Windows to boot up into regular mode.
But there's a problem: By default, neither Windows 10 nor Windows 11 respond to the F8 key when you press it during startup. That can make it difficult at best to get the system booted into Safe Mode so you can find out what's going on.
Luckily, you can easily tweak Windows 10 or Windows 11 to make them recognize the F8 key at startup and display the "Advanced Startup Options" menu. This post explains how.
Update from Jenna:  That worked, Rick. Thanks a lot!
Bonus tip: Click here to learn how to create a System Image backup in Windows 10.
---