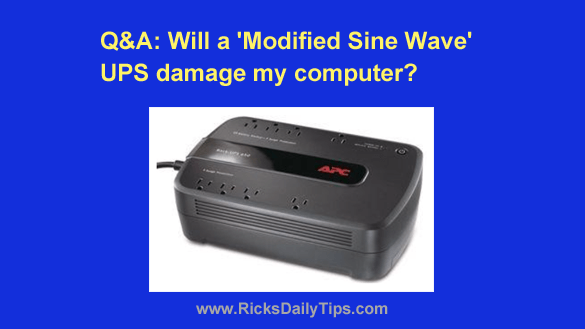 Note: The links in this post are affiliate links.
Question from Celina:  I have a question about battery backup devices, Rick.
I went to Office Depot to buy a UPS for my iMac and the man I talked to said I needed to pay extra for one that provides "Pure Sine Wave" AC current.
He said the cheaper "Modified Sine Wave" models can damage my iMac because it was designed to only accept only a pure sine wave signal. Is that true? 
I'm a very frugal person and I'd hate to waste money by buying a battery backup that's more expensive than it really needs to be, but I don't want to damage my computer either.
What's your opinion on this? And if you don't mind, can you recommend one that would be a great fit for my iMac?
Rick's answer: You're right to be concerned about the safety of your iMac, Celina.
They are great machines, and as you know they're fairly expensive when compared to a comparable Windows PC.
That being said, I don't believe you need to purchase a Pure Sine Wave UPS for your machine.
The power supplies in virtually all well-built modern computers can tolerate a modified sine wave power source just fine.
In fact, there are millions of them being used every day without serious issues.
You do need to pay attention to the size of the unit (in VAs) however.
Make sure you get one that's powerful enough to provide steady current to your computer and its associated gadgets and devices without having to work at its full load potential.
You didn't specify the actual model of your iMac, but any quality battery backup unit that's rated at 600VA or higher should work well for you and give you a decent cushion in terms of reserve capacity.
As far as brands are concerned, I recommend sticking with either APC or CyberPower.
Since you asked for a specific recommendation, I believe this one from APC would be a great choice.
Bottom line: You don't need to pay a premium price for a Pure Sine Wave UPS. Just choose a good brand that can comfortably power your computer without having to "strain".
Bonus tip: This post explains why your surge protectors could be giving you a false sense of security.
---