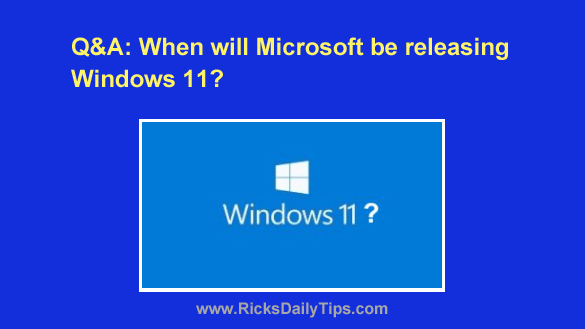 Note: The links in this post are affiliate links.
Question from Ingrid P.:  Do you know when Microsoft is planning to release Windows 11?
If memory serves they have always released a new version of Windows every 3 years or so and it's already been longer than that since Windows 10 was released.
I really need to buy a new laptop but I'd rather wait to get one with Windows 11 if it's going to be available pretty soon.
Rick's answer:  Ingrid, the answer to your question is Microsoft isn't currently planning to release a "Windows 11" at all.
Several years ago they made the decision to move to a "rolling update" process for Windows 10 instead of periodically releasing a new version.
Under their rolling update model they're releasing a major feature update for Windows 10 every six months (more or less) and regular "bug fix" and maintenance updates once a month (and occasionally more often when situations require it).
The semi-annual major feature updates are not new versions of Windows. They are simply updates to add new features to Windows 10.
Although this change in update strategy isn't very popular with some users, I believe it was a good move for both Microsoft and Windows users, for the following reasons:
1 – Once Windows 8.1 reaches the ends of its life-cycle (i.e. once it is completely abandoned by Microsoft in January 2023), Windows 10 will be the only "desktop" version of Windows remaining.
That means Microsoft will no longer have to spend money and resources maintaining multiple versions of the operating system. They'll then be able to spend that saved money to (hopefully) enhance and better support Windows 10.
2 – The vast majority of Windows users will be using Windows 10 once the older Windows versions have been abandoned.
That means new software will be simpler and more reliable because the developers won't have to worry about building in legacy support for older Windows versions.
For better or worse (and I think it's for the better assuming Microsoft manages to get the gremlins removed from their Windows Update procedure), Microsoft has insisted that Windows 10 is here to stay every time I've asked them if there will be a Windows 11.
Of course the decision makers at Microsoft could always change their minds and decide to release a Windows 11 at some point, and they've certainly flip-flopped on these types of decisions before. As they say, time will tell.
Bottom line: If you truly need to buy a new laptop you can go ahead and buy one at any time because Windows 10 is going to be on it regardless of how long you wait.
Update from Ingrid:  Thanks for clearing that up for me, Rick. I think I'll go ahead and get a new laptop instead of continuing to wait.
---
Never miss a tip!  Click here to sign up for my free Daily Tech Tips Email Newsletter!