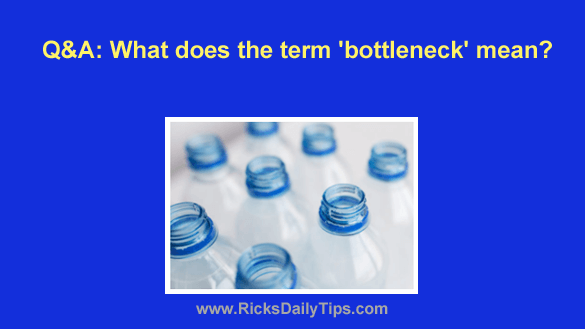 Question from Alvin:  I recently retired after working for the same construction company for 43 years.
Now I'd like to take up something new to occupy all this free time that I suddenly have to fill.
I've always wanted to learn about computers so I've started reading a few tech blogs, and RicksDailyTips is one of them (thanks to my brother Keith for recommending it).
I'm not tech savvy by any stretch (I hope to change that eventually) but I do believe I'm progressing ok for an older dude who still uses a flip phone.
There's a term that keeps popping up in the articles I read that I just can't seem to get my head around. Can you tell me what the word "bottleneck" means in regards to computers? 
Rick's answer: First of all, congratulations on your retirement, Alvin. I hope you get to enjoy many years of fun and relaxation!
Congrats also on your decision to spend part of your retirement years learning about the ins-and-outs of technology. I hope you find it as interesting and enjoyable as I do!
To answer your question, the term "bottleneck" refers to something that slows everything else in a chain of events down.
The original term refers to the neck of an actual bottle (you know, the kind we buy sodas and other liquids in).
How quickly we can pour liquid from a bottle depends on the size of the bottle's "neck".
The smaller the "bottle neck", the slower the liquid will drain, regardless of how large the bottle is or how much liquid is contained within it.
Folks in the tech field use the term "bottleneck" when similar situations arise with computers and other electronic devices.
For example, the trusty USB ports you have on your computer can be bottlenecks in some situations.
If you plug a USB 3.0 hard drive into an older computer's USB 2.0 port, the hard drive will work just fine but the data transfer speeds you'll get will be a fraction of what you'd get if you plugged the drive into a USB 3.0 port.
Since USB 3.0 is designed to transfer data 10 times faster than USB 2.0, we can think of the USB 2.0 port as a "bottleneck" because it reduces the speed at which the much faster computer and hard drive are able to communicate with one another.
It makes no difference how fast the external drive is, it will only be able to transmit and receive data back and forth to the computer at the slower USB 2.0 speeds. That means your computer's USB 2.0 port is a bottleneck in the electrical link between your computer and the hard drive.
If you unplug that USB 3.0 drive from the USB 2.0 port and plug it into a USB 3.0 port instead, you'll instantly enjoy an increase in data transfer speed (it will be up to 10 times faster!).
Another potential bottleneck could be an older, less-capable video card in a gaming PC.
Many modern games are very graphics-intensive. In order to run at peak performance they require a powerful computer and a fast graphics card with plenty of dedicated video memory.
If you try to run one of those games on a computer that has an older and less capable graphics card, the game will likely freeze up and stutter, resulting in a very poor gaming experience. And in some situations the game might not play at all.
Hence, that older and less capable graphics card is  a bottleneck that prevents that otherwise capable gaming PC from playing some of the most graphics-intensive games.
As long as the other components in the computer are up to par, if you replace that older graphics card with a newer model with specs that meet or exceed the requirements of the game, the game will play smoothly and be very responsive to your actions.
Bottom line: The concept of "bottlenecking" isn't confusing at all to us long-time "geeks", but I know it certainly can be for those who are just getting into the computer field. I hope my feeble attempt at explaining it helped clear up some of the confusion for you.
By the way, this post discusses an outstanding free resource called Webopedia. It's basically an online encyclopedia of computer, Internet and other tech-related terms. Check it out!
I hope this helps, Alvin. Good luck, and enjoy your retirement!
Update from Alvin:  That helped a lot Rick. You just might be getting a lot more questions from me in the future.
Bonus tip: This post explains what it means to "brick your phone".
---