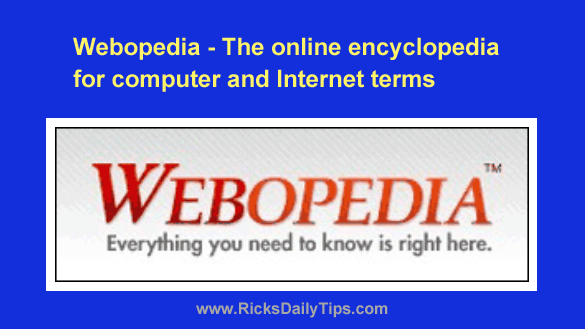 Click here to sign up for my free Rick's Tech Tips Newsletter!
---
Every industry has a certain amount of jargon that only people involved with that industry understand, but the computer world has way more than its fair share of it.
I've been using computers since the early 1980s and I still encounter technical terms and phrases on on occasion that I have never heard before.
Luckily, there is a fantastic website called Webopedia that we can turn to whenever we need to find out what a new computer term means or how a certain tidbit of technology works.
In a nutshell, Webopedia is an Internet encyclopedia specializing in computer and technology terms.
Using Webopedia is as simple as using a search engine. Simply type the term you're interested in learning about into the search box and you'll be presented with a list of Webopedia articles on that topic. Everything from a basic definition of the term to a general explanation of how the technology works is available with the click of a mouse.
If you sometimes feel overwhelmed by the computer jargon you encounter throughout the day, I recommend bookmarking Webopedia and using it often. I love it and have a feeling you will too!
By the way, there's another awesome resource for learning about new technology terms, and it's one that you probably already use on a daily basis: Google!
As I'm sure you already know, Google is much more than just a simple search engine. It's also a dictionary, a thesaurus and encyclopedia all rolled into one.
Regardless of the topic, Google can quickly point you right to the best sources of information about it. And that goes double for technical terms and information!
Bonus tip: This post offers several tips for searching Google like a pro!
---
Cick here to ask me a tech question.