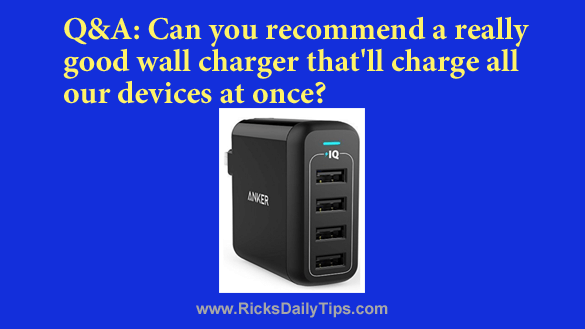 Note: The links in this post are affiliate links.
Question from Leonard:  Rick, I'm in the market for a wall charger that'll charge 4 devices at once, two of them being power-hungry tablets.
My wife and I travel together frequently on business, and we hate carrying 4 chargers along with us (actually, 6 counting the chargers for our laptops).
What we need to charge from this one charger are two iPads and two Samsung Galaxy smart phones. It would also help if the charger is as small as possible.
We'd also like to keep using our existing cables with Type-A USB connectors if at all possible. Which charger do you recommend? 
Rick's answer:  Leonard, since you need to charge two iPads and two smart phones simultaneously, you're going to need a charger that will supply a hefty amount of current.
I've tested and used a LOT of portable wall chargers over the years, and there's one that's an absolute standout in my opinion.
The Anker 40W 4-Port USB Wall Charger
will easily meet your requirements, and it's very affordable.
I really like Anker products, and the 8 total amps this charger provides will have all of your devices charged as quickly as if you had used four dedicated chargers. This model also has over 15,000 customer reviews, the majority of which are a full 5 stars.
Although this is one of the most powerful portable chargers on the market, it is still quite light and compact. I use mine frequently and consider it to be the best charger I have ever used while travelling.
Click here
to check out the Anker 40W 4-Port USB Wall Charger over at Amazon.
Update from Leonard:  This looks like just what we need Rick, and I just ordered it. Thanks so much for your help.
Bonus tip: Did you know there's a simple trick that will make all of your devices charge faster? This post explains how to do it.
---