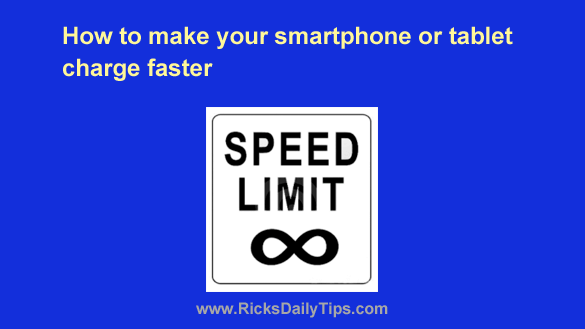 Do you often find your phone's battery running low but you don't have much time to charge it up?
If so, there's an easy way to ensure that you'll get as much charge in the short time available as possible. All you have to do is put your phone in airplane mode.
You probably know that putting any device into airplane prevents it from ringing or making other sounds, but this handy setting actually goes much further than that…
Enabling airplane mode also shuts down all the device's built-in radios (cellular, GPS, Bluetooth, etc.), and that's a big deal when the battery is being charged.
Disabling all those radios makes the device more energy efficient than it is when it's fully operational.
And the less "juice" the device needs to operate, the faster the battery will charge because more of the incoming current is flowing into the battery instead of into the device itself.
What's more, the difference in charging time can be substantial. In fact, some devices will charge almost twice as fast after they have been placed in airplane mode.
For others, the difference can be minimal. In other word's your mileage may vary as the old saying goes.
Of course simply turning your phone or tablet off while it's charging will make it charge faster still, but you'll also have to wait for it to boot up when you turn it back on.
In my opinion, enabling airplane mode is a lot more practical than a power down / power up cycle since it will only take a few seconds and a couple of taps to re-enable it.
Bottom line: Charging your device in airplane mode will give you much of the benefit you'd get by turning it off without the hassle of having to wait for it to boot back up.
That's why the next time your phone's battery is running low and you only have a few minutes to charge it, placing it in airplane mode will allow you to get the most charge possible in that short period of time.
Important: Your phone won't be able to receive calls or texts and its GPS feature won't work while it's in airplane mode. Be sure to take that into account before you enable it.
Bonus tip: Get yourself a portable charger (#ad) and you'll be able to charge your phone any time, anywhere. Some of the smaller ones will easily fit comfortably in your pocket!
---