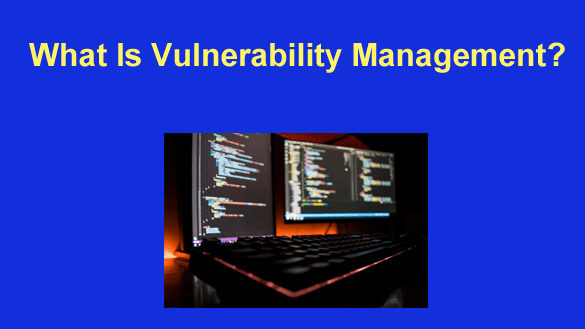 Vulnerability management is the act of identifying, evaluating, monitoring and addressing vulnerabilities in computer systems and the IT infrastructure of a company.
The main goal of this process is to reduce the risk of security breaches and lessen their impact on an operating system or software program.
Hackers frequently target the computer systems of organizations. It is vital for business owners to implement vulnerability management strategies to safeguard their computers and protect their data.
Organizations use software programs to strengthen their cybersecurity. You can check out a list of the best tools to manage vulnerabilities. Now let us explore how companies can effectively manage vulnerabilities in their computer networks: 

Vulnerability Assessment
This step involves scanning and assessing computer systems, networks and software programs to identify all vulnerabilities. Cybersecurity experts can perform this task manually or utilize automated tools specifically designed to analyze system configurations, IT infrastructure and computer files.
Conducting vulnerability assessments is also critical during software testing phases so that applications released into the market are not susceptible to exploitation by hackers or malicious actors.

Vulnerability Prioritization
Cybersecurity experts prioritize the identified vulnerabilities according to their severity level and the degree of impact they can have on the company. They use the Common Vulnerability Scoring System to determine the severity of these vulnerabilities and assign them a numerical score corresponding to said severity.

Risk Analysis
Risk analysis is conducted after prioritizing the vulnerabilities to evaluate their potential impact on a company's computer system, IT infrastructure, and assets. The analysis result will help cybersecurity experts determine the order in which each vulnerability should be addressed and the resources they must allocate to effectively mitigate any risk posed.

Mitigation
In this step, cybersecurity personnel take appropriate measures to deal with all identified vulnerabilities. These measures include but are not limited to implementing security controls, applying patches, using the security fixes provided by software developers, performing system configurations, removing vulnerable network components, and updating the system.

Constant Monitoring
It is crucial for businesses to continuously monitor their computer systems to find new vulnerabilities and determine if the implemented controls are working as intended. These can be done through penetration testing, security assessments, and regular vulnerability scans with reliable software.

Documentation and Reporting
Keeping documentation throughout the vulnerability management process is crucial. This documentation should encompass vulnerability reports, implemented security controls and an evaluation of the organization's security status. Having comprehensive documentation assists cybersecurity professionals in conducting security audits and maintaining a record of resolved issues for future reference.

Conclusion
Vulnerability management plays a major role in cybersecurity as it effectively stops cyber attackers from infiltrating networks. However these attackers are constantly upgrading their skills and searching for vulnerabilities to exploit. In addition to vulnerability management, businesses should implement safeguards like firewalls and antivirus software to protect their computer systems, critical data and assets from wrongful access.
Protecting business cybersecurity requires expertise and can be costly. Companies must bear these costs because the alternative is leaving their computer networks vulnerable to hackers and cybercriminals seeking opportunities for exploitation. Security incidents resulting from vulnerabilities can inflict damage on an organization's finances and reputation, potentially even driving them out of business.
---