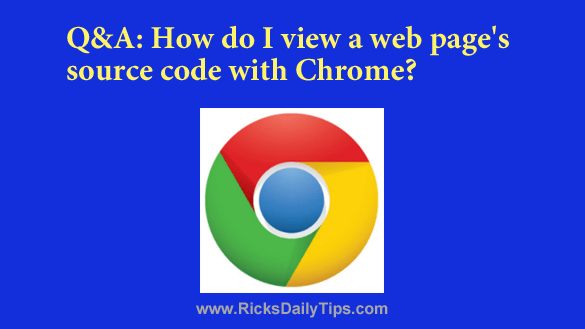 Click here to sign up for my free Rick's Tech Tips Newsletter!
---
Question from Garry:  Rick, I was a faithful Internet Explorer user for years (I guess you can say I'm a creature of habit) but after switching from Windows 7 to Windows 10 I decided to give Chrome a try.
Now that I've tried it for a few weeks, I have to agree with all the good things I'd heard about Chrome because it doesn't crash all the time, and it seems to really be a lot faster than IE too.
I knew there'd be a learning curve, but it wasn't all that bad really.
But there's one thing I just can't figure out. How the heck do you display a web page's HTML source code? 
In IE it was easy. Just click View>Source. But I can't find a way to do it in Chrome.
I know it has to be pretty simple, but how do you do it?
Rick's answer:  Hi Garry. I'm glad you like Chrome, and I agree that it a much better browser than IE.
You're also right about it being a simple matter to view a page's source code in Chrome. In fact, it's actually easier than doing it in IE. Here's how:
1 – Load the page you wish to view the HTML source code for in Chrome.
2 – Right-click on any blank area in the body of the document, then click View page source.
That's all there is to it. Pretty simple, right?
By the way, now that you're using Windows 10 you might want to also give Microsoft's Edge browser a try.
I still prefer using Chrome for most Internet-related tasks, but I really like Edge as well. It's fast, and a lot more stable that Internet Explorer ever was!
I hope this helps, Garry. Good luck!
Bonus tip: This post explains how to quickly save any web page as a PDF document with Google Chrome.
---
Cick here to ask me a tech question.