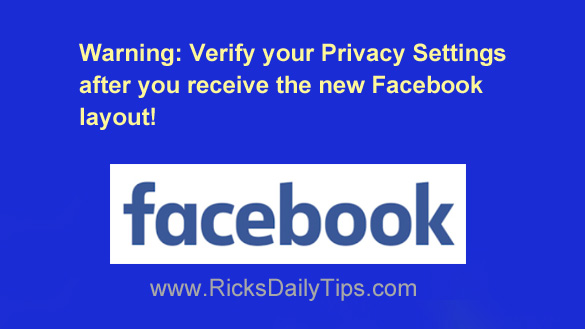 As you probably know, Facebook is rolling out a new layout for our Newsfeeds and other important aspects of the Facebook desktop site.
If you haven't already received the new layout on your account, you will very soon.
I've received several reports of the new layout causing some users to have their Facebook Privacy Settings reset after the new layout has taken effect.
In other words, their privacy settings reverted back to the same settings a brand new account would have on it.
Needless to say, that isn't good.
Even though the new layout only affects the desktop site, these settings resets are apparently happening to users of the Facebook mobile app as well.
That means even if you never use the desktop site you still need to verify your settings to make sure they haven't changed.
If your account has already received the new Facebook layout I strongly recommend that you carefully review all of your account settings to make sure they're still set the way you want them to be.
If you only use Facebook via the mobile app it would be wise to give your settings a quick check every day for the next week or so since you won't know when the new desktop layout rolls out to your account. (Yes, your account has a desktop layout even if you never use it.)
Simply follow the steps below for the device you're using to verify your account's privacy settings…
If you use Facebook on a laptop or desktop computer:
1 – Log in to your Facebook account.
2 – Click the down arrow in the top-right corner of the Facebook window.
3 – Click Settings & Privacy.
4 – Click Settings.
5 – Click on each setting in the left-hand column in turn, checking the actual settings on the right as you go to make sure all of your settings are still set the way you want them.
If you use the Facebook mobile app:
1 – Log in to your Facebook account.
2 – Tap the Menu icon (it looks like three horizontal lines).
3 – Scroll down and tap Settings & Privacy.
4 – Tap Settings.
5 – Go down the list and check each setting in turn to make sure it's set the way you want it.
After you have verified all of the settings I recommend that you view your profile the way a stranger would see it to make sure you didn't miss something. This post explains how to do that.
I know this is a time-consuming process, but if your privacy while using Facebook is important to you I strongly recommend that you take the time to do it.
It's also a good idea to repeat this check every so often to make sure your settings haven't changed because of some other Facebook glitch. These "automatic changes" happen all the time.
Bonus tip: Want to make sure you never miss one of my tips? It's easy! Just…
Click here to sign up for my free Rick's Daily Tips Email Newsletter!
---
Would you like to ask Rick a tech question? If so, click here and send it in!
If you found this post useful, would you mind helping me out by sharing it? Just click one of the handy social media sharing buttons below. Thanks a bunch!