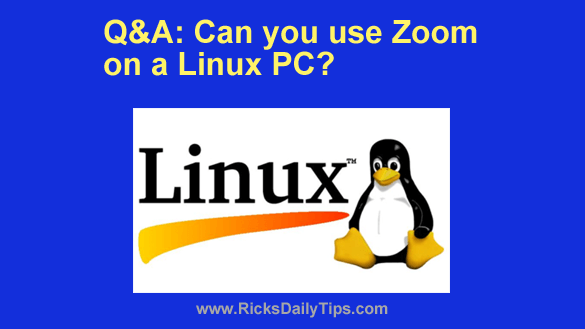 Question from Emmett: I have a question about Zoom and I'm hoping you can answer it for me.
My laptop has been giving me problems and I'm thinking of replacing Windows with Linux Mint like you mentioned in this blog post.
The only thing holding me back is I've heard that Zoom won't work on a Linux computer, and I really need to use Zoom. If it won't work with Linux that'll be a deal-breaker for me.
My question is will Zoom work with Linux or not? 
Rick's answer:  I have some good news for you, Emmett. Zoom works just fine with Linux Mint!
In fact, there are two ways to use Zoom on a Linux machine:
1 – You can use Zoom right in your web browser via the Zoom web client. Just sign into your Zoom account at Zoom.us and you'll be ready to hit the ground running.
Note: You'll find detailed instructions for using the Zoom web client right here.
2 – You can install the Zoom client for Linux app onto your computer, and it's very easy to do.
In fact, it's so easy you won't even have to go searching for a "Download" link.
Just sign into your Zoom account at Zoom.us and you'll see a Download Now link right below the "Launch Meeting" button.
Bottom line: You can definitely use Zoom with a Linux PC, and there are two simple ways to do it.
I hope this helps, Emmett. Good luck!
Update from Emmett:  Great info, Rick. Thanks a ton.
---