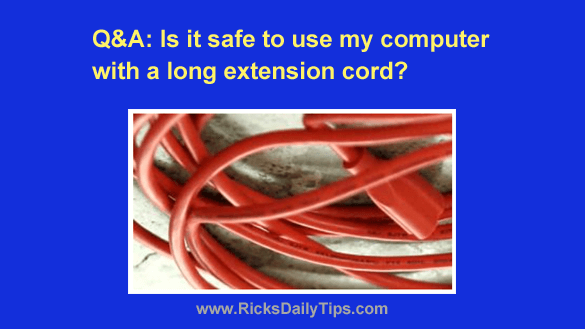 Question from Mickie:  My husband built me a small office in the corner of our basement so I can work down there away from the noise and commotion from the kids and the TV.
The problem is he didn't install any electrical outlets in the new office and the closest existing outlet is about 70 feet away from it (there are only two outlets in the entire basement).
My question is would it be safe to run a 75 foot extension cord from that outlet into the new office? 
The reason he didn't install any outlets in the office is because the circuit breaker panel is full and he can't add any more breakers.
The only things that will be plugged into the extension cord will be a surge protector and my computer equipment (tower, monitor and printer).
Rick's answer: Mickie, I don't recommend plugging a computer into an extension cord of any length, and I would strongly recommend that you not use one that's 75 feet long.
Extension cords by their very nature can be dangerous, and the danger level increases with the length of the cord.
There are some potential serious issues that could arise if you were to use a 75 foot extension cord to power the computer equipment in your basement office:
1 – If the gauge of the wires in the extension cord is too small to properly supply the amount of current needed to power your gear they could well overheat and cause a fire. And the longer the cord, the larger the gauge you will need.
2 – The protective outer shield of the cord could become nicked or otherwise damaged, resulting in a fire hazard or shock danger to anyone who might come into contact with it.
3 – Basements typically have water pipes running through them. If one those pipes were to burst your basement floor could become flooded. And as you know, electricity and water don't play together all that well.
Bottom line: I would strongly recommend that you not use an extension cord to supply power to the computer equipment in your new basement office.
On the other hand, I do recommend that you hire a licensed electrician to inspect your circuit breaker panel to make sure everything is properly connected and safe. If all is well he/she will probably be able to find a safe way to wire your new home office with a couple of new electrical outlets.
Bonus tip: While the electrician is there you might want to consider asking him/her to install a whole house surge suppressor to protect your entire home from power surges and lightning strikes.
---