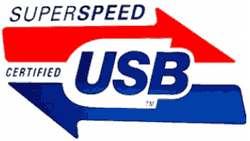 A little over a year ago I wrote a tip explaining how to put your PC's USB devices into overdrive by installing a USB 3.0 card. With a maximum data transfer rate of 5 Gbps and up to 1 amp of power available for attached devices, USB 3.0 was a vast improvement over the aging USB 2.0 specification.
Well, the specs for USB 3.1 have just been released, and once again the improvement is staggering. USB 3.1 will double 3.0's maximum data transfer speed to 10 Gbps while maintaining backwards compatibility with legacy USB devices. 
I believe the biggest winners (after consumers of course) will be the makers of USB external hard drives because this will greatly diminish the gap in speed between internal hard drives and external ones.
It'll be a while before USB 3.1 devices start showing up on store shelves, and even longer before USB 3.1 ports become standard on new PCs. But I predict that it won't be long before USB 3.1 expansion cards become available, and when they do I plan to install one in my Desktop PC right away.