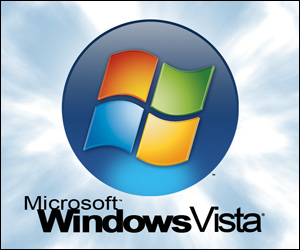 Question from Andrea W.:  Please help me Rick!! I have an Acer Desktop computer running Windows Vista. I took the cover off of it and took it outside to blow the dust out of it.
After it was all clean inside I took it back into the house and connected everything back up. I turned the computer back on and everything seemed fine at first, but then it stopped cold and displayed an error message.
I took this picture of the screen with my camera: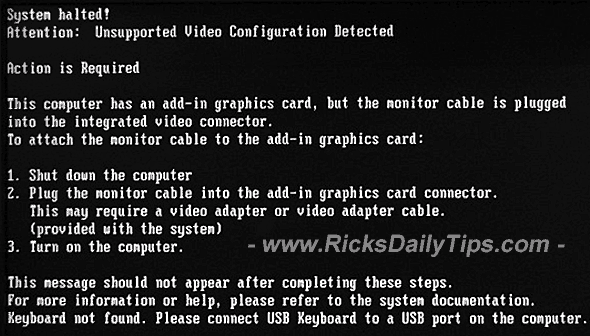 It won't let me do anything at all! I even turned the power off and unplugged everything, then plugged everything back in. I did this several times but I keep getting the same error message. Do you think I've messed up the video card? Your FAST help will be greatly appreciated!!!!
Rick's answer:  Everything is probably fine Andrea. My guess is you simply connected the monitor cable into a different connector on the back of the computer than the one it was plugged into originally.
Just turn the computer off and look for another connector that looks exactly like the one the monitor is plugged into right now. Plug the cable into that other connector and everything should be back to normal when you power the PC back up. If not, let me know and we'll go from there.
Update from Andrea:  Yep, dummy me had the monitor plugged into the wrong connector! I put a piece of masking tape over the wrong one to keep me from doing that again. Thanks so much!!!!!
---
Do you have a tech question of your own for Rick? Click here and send it in!
Need expert computer help? Click here to read about the services that I provide.