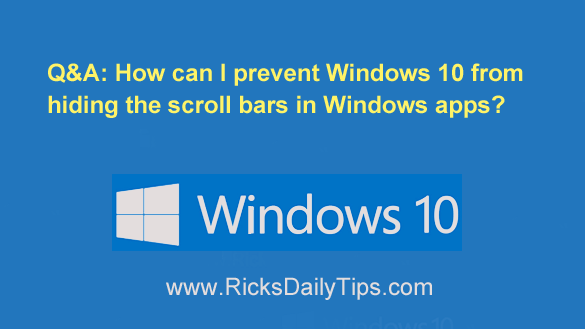 Question from Tammy:  Every time I load a Windows app on my Windows 10 laptop the scroll bar over on the right remains hidden until I move my mouse over it.
This happens every time I use any app I have downloaded from the Microsoft Store.
I have a health issue that makes it hard for me to control the placement of the mouse so I have trouble activating the scroll bar.
Can you tell me how to keep Windows from hiding the scroll bars?
Rick's answer:  I find that "feature" irritating as well, Tammy. Getting the scroll bars to pop out can definitely be difficult at times.
Luckily, all it takes is a simple settings change to prevent Windows 10 from automatically hiding the scroll bars in Windows apps. Just follow the steps below:
1 – Click the Start button.
2 – Click the Settings icon located in the lower-left corner of the window (it looks like a "gear" or "cog").
3 – Click Ease of Access.
4 – Select Display from the options listed in the left-hand pane.
5 – Toggle the "Automatically hide scroll bars in Windows" setting to Off.
6 – Click the X in the top-right corner of the window to close the Settings app.
That's all there is to it. The scroll bars should now remain in view at all times when you're using a Windows app.
I hope this helps, Tammy. Good luck!
Update from Tammy: Thanks Rick. You're a lifesaver!
Bonus tip: Want more tips for using Windows 10 effectively? Click here to check out "Windows 10 for Dummies", an excellent guide to using Microsoft's latest version of Windows!
---
Never miss a tip!  Click here to sign up for my free Daily Tech Tips Email Newsletter!