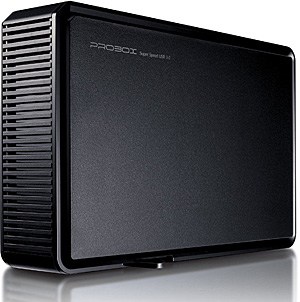 Question from Alvin T.:  My mom's (really) old desktop computer won't come on so she bought herself a new laptop to replace it.
Now she wants me to get the files off her old hard drive for her, but I don't have a desktop PC to install it in.
I read your post about converting a spare internal hard drive into an external USB hard drive, and it's very informative.
But when I click the link to see the external drive enclosures there are so many that I don't know which one I need to buy for her hard drive (160GB Seagate Barracuda ST3160023AS).
Can you recommend a good (but cheap) external USB enclosure that will work with that drive?
Rick's answer:  Alvin, your mom's old Seagate drive is a 3.5″ drive with a SATA interface. That means you'll need to purchase a 3.5″ external drive enclosure.
I took a look on Amazon and found this Mediasonic SATA to USB 3.0 enclosure that should work great with that drive. It's rated 4 stars out of 5 and it has over 700 user reviews. That's a pretty good rating.
This enclosure only costs about $20 or so on Amazon, and that's a pretty good deal for a 3.5″ external drive enclosure. In my opinion, it will be money well spent.
I hope this helps Alvin. Good luck!
Bonus tip: Want to make sure you never miss one of my tips? Click here to join my Rick's Tech Tips Facebook Group!
Note: The links in this post are affiliate links. The prices on Amazon change frequently so any prices mentioned in this post might not be accurate by the time you read this.
---
Do you have a tech question of your own for Rick? Click here and send it in!
If you found this post useful, would you mind helping me out by sharing it? Just click one of the handy social media sharing buttons below.