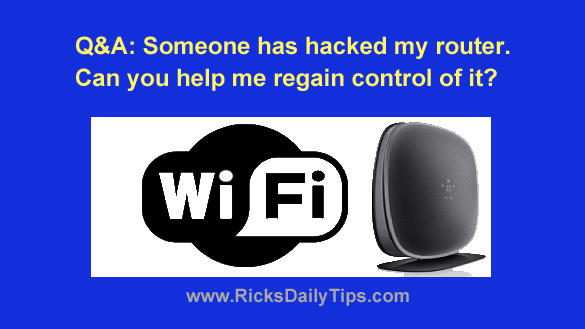 Question from Barbara:  Hi, Rick. I have a very urgent problem and I need your help, ASAP!
Everything was fine when I went to bed last night, but when I woke up this morning and turned on my laptop to check my email, the laptop couldn't find my WiFi network.
I had it scan for available networks and it found just one (and it had a really nasty name that I can't repeat on here).
I first thought it might be a neighbor's WiFi signal that was straying into my house, but then I noticed that it was a really strong signal.
Since it was so strong I figured this strange WiFi signal had to be coming from my own router, and sure enough when I unplugged my router the "nasty" WiFi network disappeared.
It appears that someone has hacked my router somehow but I don't know how to take back control of it because it won't accept my password. Can you help? [Read more…]