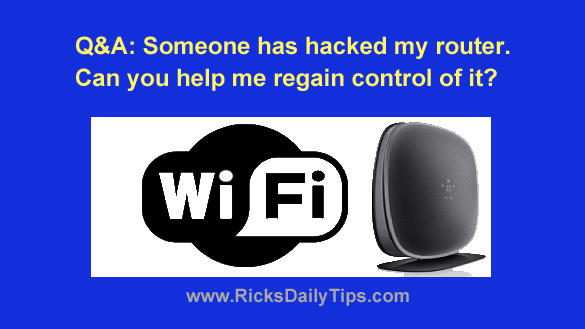 Question from Barbara:  Hi, Rick. I have a very urgent problem and I need your help, ASAP!
Everything was fine when I went to bed last night, but when I woke up this morning and turned on my laptop to check my email, the laptop couldn't find my WiFi network.
I had it scan for available networks and it found just one (and it had a really nasty name that I can't repeat on here).
I first thought it might be a neighbor's WiFi signal that was straying into my house, but then I noticed that it was a really strong signal.
Since it was so strong I figured this strange WiFi signal had to be coming from my own router, and sure enough when I unplugged my router the "nasty" WiFi network disappeared.
It appears that someone has hacked my router somehow but I don't know how to take back control of it because it won't accept my password. Can you help? It's a Belkin N450DB.
Rick's answer:  You're absolutely right, Barbara. It sounds like someone has indeed taken control of your router and set up a malicious WiFi network on it.
And that's not a good thing because they can do all kinds of horrible things online and the IP address will be traced back to YOU! I strongly recommend that you take care of this immediately.
The first thing you need to do is manually reset the router back to its factory settings. Doing so will wipe out that rogue WiFi network and allow you to log in to the router to set up one of your own.
Virtually any hacked router can be recovered by performing a factory reset on it. Simply follow the steps listed in the router's user manual.
Here are the steps you'll need to follow in order to perform a factory reset on your Belkin N450DB:
1 – With the router powered up, turn it around to where you're looking at the back panel.
2 – Press and hold the "Reset" button for at least 10 seconds, and then release it. The lights on the Router will momentarily flash. The "Router" light will begin to blink. When the "Router" light becomes solid again, the reset process will be complete.
Refer to the diagram below to determine the location of the Reset button. Note: The Reset button is labeled "C".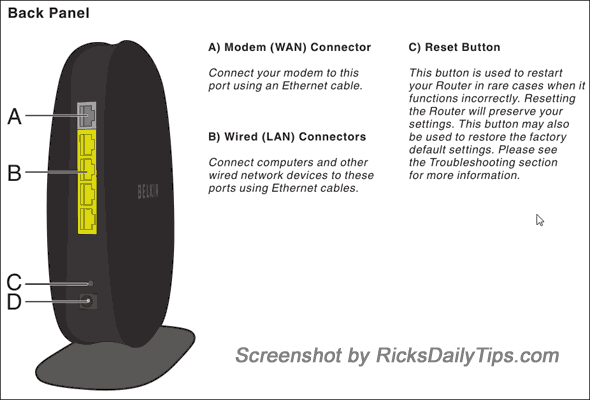 Next, you need to log into the router's setup utility. Here's how:
1 – Connect the router to your computer with an Ethernet cable.
2 – Open your web browser and paste this URL into the address bar:  http://192.168.2.1/
3 – After the "Router Setup Utility" loads, click Login.
4 – Click the Submit button. (Since there is no default password for this particular router, you can simply leave the password field blank.)
5 – Set up a new WiFi connection. Be sure to use WPA2 security and choose a strong password that's impossible to guess. This post explains how to do that.
You're done!
Note: If you need to refer to this router's manual, click here.
And now one final thought…
Your Belkin N450DB is about 10 years old, which is fairly ancient in tech years. I strongly recommend that you consider replacing it with a more recent model (for several reasons).
I hope this helps, Barbara. Good luck!
Bonus tip: If you typically leave your WiFi network open to the public (i.e. you don't put a password on it), this post explains why you really need to.
---