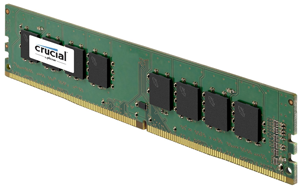 Question from David G.:  I recently bought a Dell XPS 8900 desktop computer that came with 8GB of RAM installed. I want to double that to 16GB.
I ran the "Crucial System Scanner" you mentioned in this post and it said my computer can use up to 64GB of DDR4-2133 RAM.
I found an 8GB DDR4-2133 RAM stick on Ebay for less than half of what Crucial is selling them for so I bought it. I received the new RAM just 3 days after I ordered it but it won't fit into the empty RAM socket on the computer.
Do you think the problem is an error in the info I got from the System Scanner? If so, what kind of RAM do I need to buy? I emailed the seller a couple of days ago but I haven't heard anything back from him yet.
Rick's answer:   [Read more…]