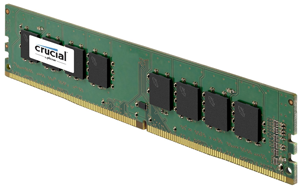 Question from David G.:  I recently bought a Dell XPS 8900 desktop computer that came with 8GB of RAM installed. I want to double that to 16GB.
I ran the "Crucial System Scanner" you mentioned in this post and it said my computer can use up to 64GB of DDR4-2133 RAM.
I found an 8GB DDR4-2133 RAM stick on Ebay for less than half of what Crucial is selling them for so I bought it. I received the new RAM just 3 days after I ordered it but it won't fit into the empty RAM socket on the computer.
Do you think the problem is an error in the info I got from the System Scanner? If so, what kind of RAM do I need to buy? I emailed the seller a couple of days ago but I haven't heard anything back from him yet.
Rick's answer:  I'm very sorry you're having trouble with your RAM upgrade David.
To answer your question about the System Scanner, there's always a chance that any computer software can have a bug in it or simply provide incorrect information, but in this case the info was correct (the Dell XPS 8900 indeed uses DDR4-2133 RAM modules).
I have no way of knowing for sure, but I think the person who sold you the RAM either made a mistake and sent the wrong type of RAM or he simply scammed you outright. And unfortunately, his failure to answer your email after 48 hours leads me to believe it could well be a scam situation.
If I were you I would send him one more email and ask him to respond right away. If he doesn't respond to that message either you should probably leave negative feedback for the transaction and buy your RAM somewhere else.
By the way, your Dell XPS 8900 probably came with two 4GB RAM sticks installed instead of a single 8GB stick, and I recommend that you install two additional 4GB RAM sticks in the empty slots instead of a single 8GB stick.
Crucial (the folks behind the awesome System Scanner app) sells some of the best quality memory products that you can buy. Yes, they do charge more than some other retailers, but I believe its worth it due to the quality of their products and their exceptional service.
Another option is to buy your RAM from Amazon.
In fact, I just checked and saw that Amazon is selling the very same Crucial 8GB DDR4-2133 RAM stick for slightly less than Crucial themselves are selling it for – and it comes with free shipping!
Still another option is to take your computer into your nearest Best Buy store and have them install the proper RAM for you. They'll charge you an installation fee, but if something goes wrong and your PC gets damaged they'll be responsible for making it right.
I hope this helps David. Good luck!
Bonus tip: Want to make sure you never miss one of my tips? Click here to join my Rick's Tech Tips Facebook Group!
---
Do you have a tech question of your own for Rick? Click here and send it in!
If you found this post useful, would you mind helping me out by sharing it? Just click one of the handy social media sharing buttons below.