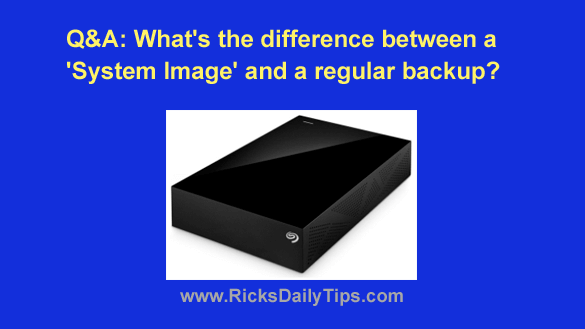 Note: The links in this post are affiliate links.
Question from Phillip:  I've been reading your blog for a while now and you often mention creating "System Image" backups.
Are these just regular backups or is there something different about them?
I've been using Carbonite to back up my irreplaceable files but would I be better off creating System Image backups instead?
Rick's answer: That's a great question Phillip, and I believe you're the first person who has ever asked it.
The answer is yes, they are different (at least in most cases).
What you refer to as "regular" backups typically only back up selected types of files, leaving the rest of the files on the hard drive or SSD out of the backup set.
That means if your hard drive or SSD ever dies you'll be able to easily restore the files you have backed up from the backup set and onto the new drive. But before you'll be able to restore those files you'll need to reinstall the operating system on the new drive first.
And unless the operating system was included in the backup set AND there is a way to restore the O.S. back to a working state from the backup, you'll have to get the operating system's installation files elsewhere (download a Windows ISO file from Microsoft, for example).
On the other hand, an "image" backup creates what is essentially a "mirror image" of the contents of your hard drive or SSD and (usually) stores it on an external USB hard drive.
That means if you ever need to replace a failed drive or reinstall the operating system for some reason you'll be able to restore the drive back to the exact state it was in at the time the image backup was created.
You mentioned that you're using Carbonite to back up your irreplaceable files, and that's great. Carbonite is an excellent choice for an off-site backup medium.
But that being said, there's one problem with using Carbonite as your only backup medium…
The most basic (and least expensive) backup plan offered by Carbonite only backs up your data files (which are arguably the most important files on your machine).
It does NOT back up your Windows installation, your installed programs and apps or any of your Windows settings.
On other words, Carbonite's most basic service doesn't create image backups since it only backs up selected files. Carbonite does offer a plan that creates image backups, but as you can see here that plan costs a whopping $50 per month!
Based upon the info you included in your question, you're almost certainly using Carbonite's basic (non-image) plan. And that's perfectly fine IF you also back up the rest of your files in some other way (preferably by creating local system image backups).
Luckily, it's very easy to create system image backups on both Windows machines and Macs. And you won't need to purchase any additional software to do it.
These posts have step-by-step instructions for creating System Image backups in all the current versions of Windows.
This post explains how to create an image backup on a Mac.
Bottom line: System Image backups contain the entire contents of a machine's hard drive or SSD, making it easy to quickly recover from a drive failure or a corrupted operating system without having to reinstall the O.S. and your programs/apps from scratch.
On the other hand, cloud-based "regular" backups with a service like Carbonite typically protect your most important files from loss in case a fire or other disaster destroys your local image backups or otherwise renders them useless.
Cloud-based backup services DO NOT typically back up your computer's operating system and programs unless you pay extra for a higher service tier that includes that protection.
Therefore, it's really a good idea to create both System Image backups AND regular backups for the sake of redundancy.
---