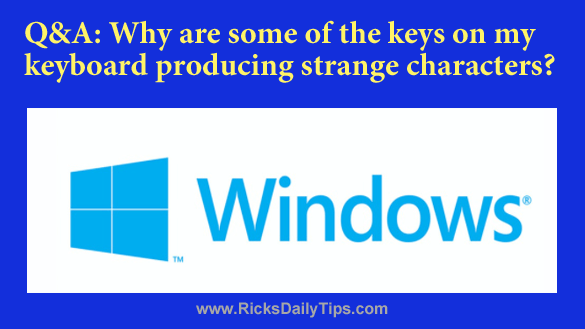 Click here to sign up for my free Rick's Tech Tips Newsletter!
---
Question from Phillip W.:  Rick, I have a Dell laptop with Windows 7 on it and I need your help fixing a problem I'm having with it.
I downloaded a game from a free games website and now some of the keys on my keyboard produce strange characters when I press them.
The letters look normal but they have various punctuation marks added to them almost like I'm typing in a foreign language. How can I fix this?
Rick's answer:  Phillip, it sounds like the game you downloaded changed the default language for your keyboard to some European language.
That's easy enough to change back, but you might have deeper issues than just the language change. But we'll deal with that issue first.
If it works, performing a System Restore back to a time prior to last night is probably your best way to fix the keyboard issue. Try following the directions in this post.
If the System Restore doesn't work for whatever reason, try this:
1 – Press the Windows+R key combination to open a "Run" box.
2 – Type (or copy/paste) intl.cpl into the "Run" box, then press the Enter key.
3 – Click the Keyboards and Languages tab.
4 – Click Change keyboards.
Note: You didn't mention which country you live in so I'll assume that you live in the United States. If not, just substitute the language for your particular country for English>US in the instructions that follow.
5 – If you see any other languages except for English>US, select them one at a time and click Remove. Repeat this step for every "extra" language you see until the only language left in the list is English>US.
6 – Click Apply, then click Ok.
Ok, that should take care of the keyboard issue. But here's something else to consider:
Many games that are available for download from "free games" sites (these are often torrent sites) are pirated copies that contain malware, and it's a pretty good bet that the game you downloaded is one of them. I recommend doing two things as soon as possible:
1 – Uninstall the game (if the System Restore you tried earlier didn't remove it already). If you're unable to remove it with the Control Panel's "Uninstall a program" utility, use Geek Uninstaller instead.
Actually, I never even bother with the native Windows uninstaller anymore. I simply run Geek Uninstaller from the get-go because it completely removes all traces of the program.
2 – Run a series of thorough malware scans on your computer by following the step-by-step procedure detailed in this post.
I hope this helps Phillip. Good luck!
Update from Phillip:  Thanks for your help Rick. I did a System Restore and that fixed the keyboard problem. I also ran the virus checks you suggested and it found several. I'll never download anything from a torrent site again.
Bonus tip #1: The problem mentioned in this post is a perfect example of why it's important to always have a recent backup on hand. Click here to learn how to create a System Image Backup in your version of Windows.
Bonus tip #2: Just in case you don't know, Microsoft is no longer releasing security updates for Windows 7.
That means Windows 7 is no longer safe for day-to-day use on any PC that's connected to the Internet. U just thought I should mention that.
---
Click here to ask me a tech question.