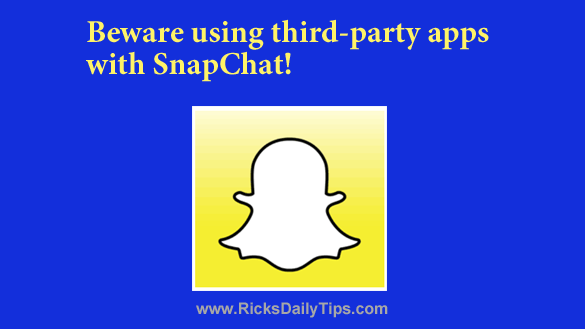 Click here to sign up for my free Rick's Tech Tips Newsletter!
---
Snapchat is a popular social networking site that lets users send photos and videos to other Snapchat users that "self-destruct" after they they are viewed.
Many users assume that since Snapchat works that way, they can safely send "personal" pics and videos to their friends for quick, one-time viewing. But as explained in this post, that isn't really the case at all.
What's more, the folks at Snapchat have announced that there's another kind of danger associated with using their service: third-party apps. 
There are always third-party apps popping up that supposedly make sending and receiving "snaps" faster and easier, but the real purpose of many of those apps is to hijack your photos and videos and save them to a computer somewhere – and not necessarily on the computer of the intended recipient.
That's why using third-party apps is expressly forbidden by Snapchat's Terms Of Service. I recommend that you take a few minutes and read the entire TOS, but here's the relevant passage if you're pressed for time:
"You will not use or develop any third-party applications that interact with the Services or other users' content or information without our written consent."
It couldn't be any clearer than that, yet people continue using dangerous third-party apps anyway.
If you decide to take a chance and use one as well, there's a good chance that SnapChat will find out and terminate your account.
Bottom line: If you decide to use a third-party app with Snapchat, your photos and videos as well as those of your chat partner(s) are very likely being viewed and saved by complete strangers. And you never know where they might end up now that folks the world over are using the Internet.
What's more, you might end up getting booted off of SnapChat as well.
Bonus tip: Read this post to find out why you should be careful what you Like, Share and Comment on while using Social Media if you're still in the workforce.
---
Cick here to ask me a tech question.