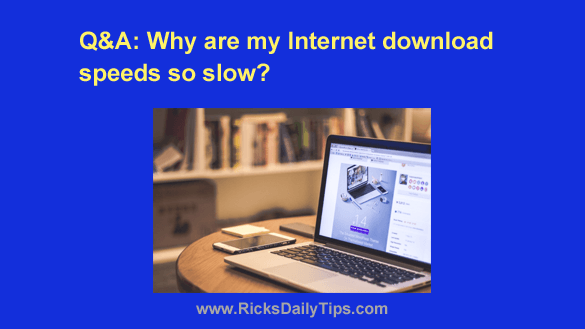 Question from Kellie:  I have Comcast Internet and the plan I'm on is for 200 Mbps download speed.
I used SpeedTest.net to run several speed tests yesterday and again this morning. The fastest speed I got was around 65 Mbps.
I called Comcast this afternoon and they ran some kind of test from their end and said I was getting all the speed I'm paying for.
Is there something I'm doing wrong when I run the speed test or is Comcast just blowing me off? 
Rick's answer: Checking actual Internet download and upload speeds can be a little tricky, Kellie.
While there's always a chance that the Comcast tech you spoke with just told you that to get you off the line, I have a hunch that you are indeed getting the speed you're paying for.
You didn't mention how many computers and other devices were using your Internet connection at the times when you ran your tests, and that makes a huge difference.
Please allow me to explain why having multiple devices in use while you're running the speed test matters…
You said you're paying Comcast for a download speed of 200 Mbps. That means Comcast is promising to deliver 200 Mbps to your modem/gateway.
That 200 Mbps is then divided up among all the computers and devices that happen to be using your Internet connection at any given time.
For example, if someone in your house is streaming a movie while you're watching a YouTube video, neither of your devices are going to be receiving data at the full 200 Mbps.
Instead, that amount will be shared between those devices.
Put another way, every additional device that's actively using your local network will lower the effective download speeds for every individual device that's in use at that time.
In fact, even a tablet or smartphone that's accessing a website or reading Facebook can lower the effective speeds delivered to other devices on your network by at least a small amount.
Here's a little experiment for you to try:
1 – Make sure your computer or mobile device is the only device in your house that's actively using your Internet connection while you run the test.
You can do that by either turning the other devices off, temporarily disconnecting them from the network or placing them in Airplane Mode.
2 – If at all possible, run the test with a computer that's connected to the router or gateway via a wired Ethernet connection.
If you run the test over a Wi-Fi connection the download speed reported at the end of the test will most likely be well below the rated speed of your Internet plan.
3 – Run a SpeedTest.net test three more times, choosing a different remote server for each test.
4 – Use the fastest reported speed from the three tests as your final result.
That's all there is to it. I have a hunch that the fastest speed you'll get from your "isolated" speed tests will be somewhere in the neighborhood of 200 Mbps if you used a computer connected via wired Ethernet to run the tests.
If it isn't then Comcast needs to send a tech out to your house to see what's going on.
I hope this helps, Kellie. Good luck!
Update from Kellie:  I did what you suggested Rick, and the meter ended up reading 213 Mbps at Speedtest.net. I sure can't complain about that. Thanks for your help!
---