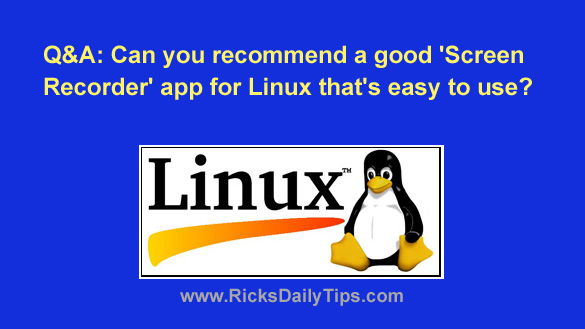 Question from Earnie:  I've been following you on Facebook for a long time Rick, and I've learned a lot from the great info you post.
One post that really helped was the one where you basically said we need to ditch Windows 7 because it's no longer being supported. I had no idea!
After reading that post and pondering my options for several days I finally took your advice and replaced the Windows 7 on my laptop with Linux Mint, and I believe it was a good move.
I checked your list of Linux replacements for Windows programs (very helpful, thanks!) for a screen recorder app but I didn't see one listed.
I searched Google for Linux screen recorder apps and found several but all the ones I tried are too complicated for what I need.
All I need is a very simple app that can record everything that happens inside the active window.
Is there one that you can recommend?
Rick's answer:  Earnie, there are several good screen recorder apps for Linux to choose from, but in my opinion the one that offers the best combination of power and ease-of-use is Maarten Baert's aptly-named SimpleScreenRecorder.
This app works perfectly right out of the digital box, but it does offer a number of powerful options for the folks that need them.
One of those options allows you to record just the contents of the active window as you requested.
SimpleScreenRecorder is completely free and it's easy to install and use. You'll find all the info you need on the download page.
Check it out and see what you think.
I hope this helps, Earnie. Good luck!
Update from Earnie:  I installed SimpleScreenRecorder like you suggested, and it's perfect for what I need. Thanks for taking the time to help me. Love your site by the way!
Bonus tip: Want to make sure you never miss one of my tips? Click here to join my Rick's Tech Tips Facebook Group!
If Facebook isn't your cup of tea, I invite you to sign up for my Rick's Daily Tips Daily Update Newsletter.
---
Want to ask Rick a tech question? Click here and send it in!
If you found this post useful, would you mind helping me out by sharing it? Just click one of the handy social media sharing buttons below.