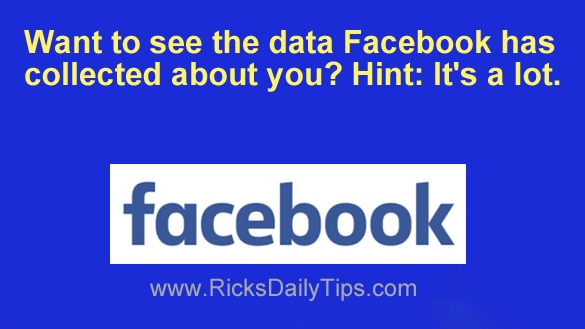 It's no secret that Facebook gathers all manner of data and info about their users, but most folks have no idea just how much data Facebook has about them, and how broad it is.
And fewer people still know that Facebook routinely shares this data and info with a wide variety of third-parties.
Well, it turns out that you can actually view much of the info Facebook has banked about you. All you have to do is click (or tap) through the settings a bit. 
If you'd like to see what Facebook knows about you (and is likely sharing with third parties), just follow the steps below for the device you're using.
If you use Facebook in a web browser on a laptop or desktop computer:
1 – Click the down arrow at the far right side of the menu bar at the top of the Facebook window.
2 – Click Settings & privacy.
3 – Click Settings.
4 – In the left-hand pane, click Privacy.
5 – Also in the left-hand pane, click Your Facebook information.
You should now see a bunch of categories listed in the left-hand pane and some additional info over on the right.
6 – Click through each category on the left to see the various types of info Facebook has collected on you.
If you use the Facebook app on a mobile device:
Note: The steps below might vary a bit depending on which version of the Facebook app you have. Therefore, please use this procedure as a general guide.
1 – Tap the Menu icon (it looks like your profile picture with three horizontal lines superimposed on it).
2 – Scroll down and tap Settings & Privacy.
3 – Tap Privacy shortcuts.
4 – Scroll down to the "Your Facebook Information" section and tap Access your information.
You should now be on a page that lists the various categories of info Facebook has collected about you.
5 – Scroll down the page and click on each category in turn to see your stored info.
That's all there is to it. Now you know exactly what data and info Facebook has been collecting about you since the day you first opened your account.
---