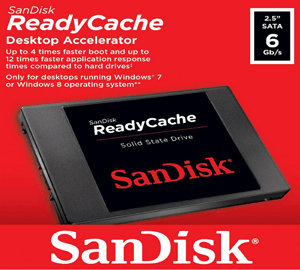 As I explained in this post, adding a solid state drive (SSD) to your computer can speed it up more than any other other upgrade you can make for the same amount of money.
Today I'm going to tell you how to give your system the same awesome speed boosts provided by solid state drives at just a fraction of the cost. What's more, you won't have to replace your hard drive or copy its contents onto a new drive!
The little gem that makes all this possible is called a "Cache Only SSD".
In essence, a Cache Only SSD is a slimmed down solid state drive that does just one thing: cache your most-used programs and operating system routines in flash memory. Then when the CPU needs those programs and routines again, they're loaded from the super-fast flash memory instead of the much slower hard drive.
In short, a Cache Only SSD makes your Windows operating system and programs load in, well…a flash! 
The other day I had a chance to check out the nifty SanDisk ReadyCache 32GB Cache Only SSD (#ad), and I can tell you that it really lives up to its name.
SanDisk is well-known for their high quality flash memory products, and I've been using them for years in my digital cameras and other portable electronic devices. And I'm guessing that you have too. That's why I was so eager to check out and review their Cache Only SSD line of flash memory devices.
Installing and using this awesome device couldn't be easier. Here's how:
1 – Turn off your desktop PC and unplug all the cables. (The ReadyCache device won't fit into a laptop unless it has an empty second hard drive bay – and most don't).
2 – Remove the cover from your PC's case and install the ReadyCache drive into any open drive bay. If your case has an open 2.5″ bay, you can simply install the device as-is. If you only have a 3.5″ bay available to you, simply install it using the included 2.5″ to 3.5″ drive adapter bracket.
3 – Connect the ReadyCache device to an open SATA port on your motherboard via the included SATA cable.
4 – Reattach the cables and replace the case cover that you removed in steps 1 and 2 above.
5 – Boot up your PC, install the ExpressCache software, then enter the software activation code that came with the device when prompted.
That's all there is to it! Windows will automatically begin caching parts of the operating system and your most frequently used programs onto the ReadyCache Cache Only SSD. Beginning almost immediately your PC should boot up to 4 times faster than normal and your most-used programs should load up 12 times faster!
Note that your PC must be running either Windows 7, Windows 8 or Windows 8.1 in order to take advantage of this amazing device. Windows Vista and XP are not supported.
Bottom line: The SanDisk ReadyCache Cache Only SSD gives you all the benefits of replacing your boot drive with an SSD, but at a fraction of the price. And you don't have to replace your hard drive or transfer any files!
Click here (#ad) to read more about the SanDisk ReadyCache 32GB Cache Only SSD at Amazon.