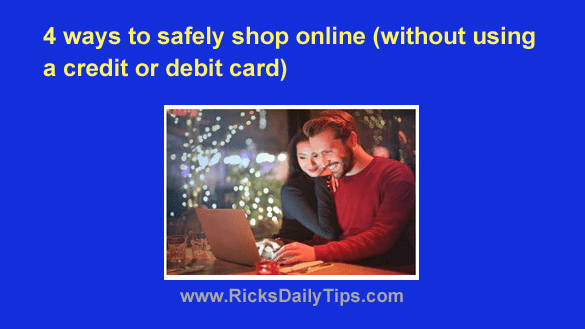 It seems there's another major online retailer getting hacked just about every other day, and many of those successful hacking jobs result in the theft of sensitive customer information and credit card details.
While it's getting harder by the day to prevent hackers from stealing your identity and financial information, there's one sure-fire way to prevent them from getting their hands on your credit card or debit card information…
Don't use a credit card or debit card for online purchases!
Yes, it's true that most internet retailers are set up to accept credit and debit cards by default, but there are indeed other ways to pay that won't put your sensitive financial details at risk: 
1 – Pay Cash – Yes, you read that right. You can really can pay cash for your Amazon purchases!
2 – Gift Cards – You can purchase gifts cards for use at many major online retailers at your local grocery store, then use those gift cards to make your online purchases.
Even though they are "gift" cards, you can easily use them yourself. The retailers don't care – they just want your money.
If you prefer to do your online shopping at Amazon, this post explains how to purchase your Amazon gift cards locally and then redeem them on the Amazon website.
3 – PayPal – If you have a PayPal account you can use the funds in your account to buy goods and services online from a large (and growing) number of companies, no credit or debit card required.
And if you have a PayPal debit card you can use the money in your PayPal account to pay for your online purchases from ANY online retailer.
Yes, I realize that suggesting that you use your PayPal debit card online is contrary to the title of this post, but a PayPal debit card is a special case.
Why? Because you can control how much money is in your PayPal account in order to minimize any potential losses and PayPal has some of the strictest and most effective fraud prevention policies in the marketplace.
And if you do happen to get scammed, you'll likely be covered by their Buyer Protection Plan.
4 – Prepaid Visa Cards – You can go to a local brick and mortar store and purchase a prepaid Visa card in any denomination from $50 up to $500, then use that card to make your purchases online. There are several advantages to using prepaid Visa cards instead of your own "real" credit or debit card.
As you can see, you can quite easily deal with most any Internet retailer without ever having to hand over your credit or debit card information. If you know of a better way than the ones mentioned above, I'd love to hear about it!
---