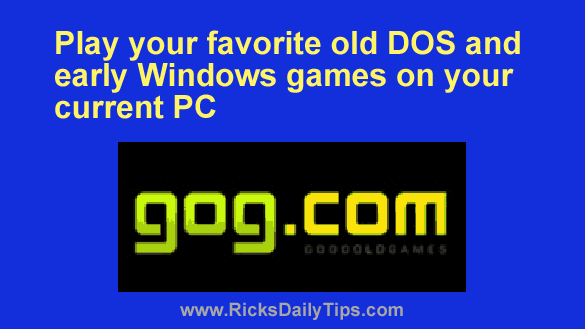 A while back I received an email from a gentleman asking how he could play his stack of vintage DOS games on his Windows 7 laptop.
In my answer I explained how he could download and install a DOS emulator program called DOSBOX that would allow those old games to run under Windows 10.
If you too would like to play vintage computer games on your Windows PC there's an even easier solution than using DOSBOX.
I recently stumbled across a wonderful website called gog.com (short for "Good Old Games") which sells hundreds of old DOS and early Windows games that have been ported to run on the latest versions of Windows right out of the virtual box. 
Gog.com offers many of your old favorites at surprisingly low prices. They don't sell every vintage game that was ever created, but they have lots of the most popular ones.
Browse the listings and you're sure to find several nostalgic gems.
One you find the game(s) you want, simply pay the low fee and then download it directly to your computer. In minutes you'll be playing Kings Quest, Myst, Zork or whatever vintage game suits your fancy.
Important: If you use the site's search box to search for a game you'll have to enter the exact title or it won't come up in the search results.
For example, let's say you're searching for King's Quest. If you just type in kings quest and leave off the apostrophe, you won't find it.
None of the games you purchase from gog.com are copy protected, and no activation is required.
Once a game has been purchased and downloaded, it's yours. Install it on your laptop, your desktop, your work PC – everywhere that you wish to play it!
If you miss those old games you used to play back in the day, head over to gog.com and check it out!
---