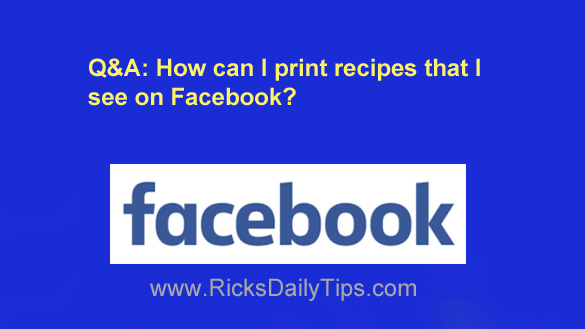 Question from Connie: I love to cook and I'm always seeing recipes that I want to try on Facebook.
The problem I have is when I go to print them it wants to print all the other posts too.
What's the best way to print just one recipe and nothing else?
Rick's answer:  Connie, probably the easiest way to print your recipe posts is to display each post all by itself on a separate page, and then print that page. Here's how:
First, find the post containing the recipe you want to print, then click that post's time stamp. The time stamp will be something like "5 min", "2 hrs", "just now" or something similar. Clicking the post's time stamp will place that post all by itself on a separate page.
Once the post is displayed on its own page, press the Ctrl+P key combination to open a print dialog box. From there you can print the current page containing the single recipe post.
And by the way, this tip works for printing any type of post on Facebook, not just recipes.
I hope this helps Connie. Good luck!
Update from Connie:  Ah Ha!!!!!!! It worked. Thank you very much. Saved me a lot of writing. Your tips are awesome by the way!!
Bonus tip: This post explains how to link directly to a specific Facebook post.
---
Never miss a tip!  Click here to sign up for my free Daily Tech Tips Email Newsletter!