Question from Manny P.:  I use Dropbox to store some of my files, but only with a couple of programs that I only use once or twice a week.
Since I don't use it that often, I don't want the Dropbox app to load every time I load Windows. I've disabled automatic startup with Autoruns, but it always starts up automatically the next time I start Windows.
How do I prevent Dropbox from loading automatically? I'd much prefer to load it manually when I actually need to use it. Thanks in advance for your help!
Rick's answer:  Manny, Autoruns does a great job at disabling autostart for most programs and apps, but as you have discovered, some programs still insist on loading automatically on subsequent Windows startups.
Luckily, there is an easy way to permanently prevent Dropbox from loading automatically. Here's how:
1 – If it isn't running already, launch the Dropbox program.
2 – Right-click on the Dropbox icon in the system tray, then select Preferences.
3 – Uncheck the box beside Start Dropbox on system startup. Here's a screenshot: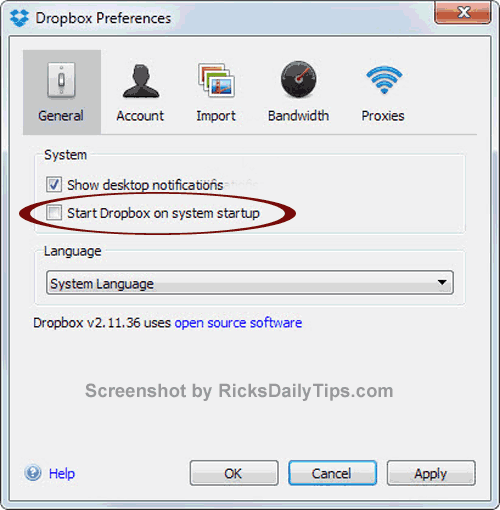 4 – Click Apply, then click OK.
That's all there is to it Manny. From now on Dropbox won't load every time Windows loads or when you log in. You'll now be able to start the program manually when you actually need to use it.
Update from Manny:  Thanks Rick. That's a big help!
---
Do you have a tech question of your own for Rick? Click here and send it in!